India's leading cigarette maker, ITC, has roped in artist Paresh Maity to design a limited edition packing for its Flake brand, with the launch of the Paresh Maity Collector series, to be exclusively sold in West Bengal. This is the first time that ITC has collaborated with an artist for its brand.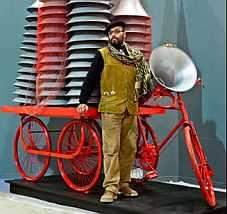 Through this initiative, ITC is looking to reinvent itself, not just through product innovation, but product design and packaging too.

Inspired by Bengal, Maity has created images of Victoria Memorial, folk musical instruments and the banks of river Hooghly with the Howrah Bridge for the cigarette packs, at no extra cost to the consumer.

Flake was an obvious choice for the initiative, being the largest-selling brand in the state. Interestingly, ITC's initiative comes at a time when the world is fighting against tobacco consumption.

Recently, Australia has decided to adopt plain packaging, which means manufacturers would have to sell cigarettes in drab, olive green packets with graphic pictorial warnings. Trademark brand logos would be replaced with the name in a prescribed font from December 1.

Though it's not on the Indian government's agenda right now, anti-smoking bodies have come up with the suggestion that plain packaging be considered.

"Packaging impacts young
minds into initiating tobacco use, which is why Australia is adopting plain packaging. They also view packaging as a form of advertising as misleading brand imagery has the potential to distract attention from health warnings printed on tobacco packs," said Monika Arora, head- health promotion & tobacco control, Public Health Foundation of India.
"The limited edition of cigarette packaging is an attempt to promote its brand by ITC. It is not a violation of Indian laws, but we are advocating to the government that plain packaging be considered. It will help increase the size of Indian pictorial warnings on the packs," Arora added.
Though a first for ITC, there are galore examples of the artist-brand collaboration. In the early 1980s, Absolut created an iconic style of advertising, using its vodka bottle. Andy Warhol was the first to be roped in for such a campaign. Absolut, also, collaborated with designer Manish Arora to launch its first Indian edition of creative design at the Wills Lifestyle India Fashion Week.
Painter, Shuvaprasanna, doesn't see anything wrong in the association, with a demerit good per se. "Personally, I may not have done it, but like any other professionals, there is nothing wrong in an artist taking up such assignments," he said.
Images of smoking in art are, of course, historical. The earliest can be traced to the Maya civilisation.