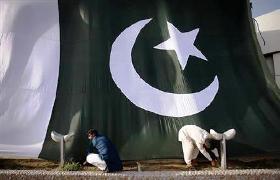 Pakistan industry council said on Thursday the country is expected to grant the much-awaited Most Favoured Nation status to India by June, a move which would further normalise trade ties between the two countries.

"Now general elections (in Pakistan) will take place. . . then within a month, by June it should be granted," Bashir Ali Mohommad, a member of the Pakistan-India Joint Business Council said in New Delhi.

He was speaking at a function jointly organised by the Research and Information System for Developing Countries and Commonwealth Secretariat.

The council was formed following a decision by the two countries to create the body to boost commerce and economic ties.

Pakistan has already missed a December 31, 2012 deadline to end a negative list regime for trade and give MFN-status to India.

Further, Mohommad asked the Indian government to share the list of items which have been removed from the sensitive list, under the South Asia Free Trade Agreement.

India has agreed to reduce its sensitive list, maintained under the SAFTA, to only 100 items from present list of 614 items by April 2013.

However, Least Developed Countries under SAFTA already enjoy the privilege of a drastic reduction in sensitive list.

". . .those items have not been notified (yet).

"This is where Pakistan side is really requesting India to make this list public before we grant the MFN status," Mohommad said.

However, Director in the Commerce Ministry, Indira Murthy, said Indian government will not notify the list till the neighbouring country granted the MFN status to India.

"It is specially specified in the 7th Round of talks held between secretaries of India and Pakistan in September 2012 that India will cut down its list of 100 items and notify it only when Pakistan gives MFN status and removes the land restrictions on Attari-Wagah border," she said.

India granted MFN-status to Pakistan in 1996.

However, Pakistan has been postponing implementation of its decision to grant MFN treatment to India with several deadlines missed believed to be due to its domestic political compulsions.

Since then, several Pakistani federal ministers have said that the move to grant MFN status had been delayed so that the government could hold consultations with its domestic industries that have expressed reservations about the move.

Mohommad said India should act as an elder brother and should remove hurdles to trade.

Elections in Pakistan are scheduled to be held on May 11.
Image: Labourers drape a large Pakistan flag outside a cinema in Karachi | Photograph: Athar Hussain/Files/Reuters