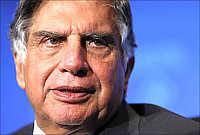 The Bermuda-based Orient-Express Hotels has rejected the $1.86-billion Indian Hotels Company acquisition bid. In a letter addressed to Indian Hotels Vice-Chairman R K Krishna Kumar, Orient-Express stated the bid amount was significantly low and undervalued the assets of the company.
J Robert Lovejoy, Chairman, OEH, said: "We carefully evaluated the Indian Hotels proposal but unanimously concluded that it is deeply unattractive from a financial perspective. Importantly, the current macro economic environment conditions in the luxury hotels business and factors unique to Orient-Express would make this a highly disadvantageous time to sell the company to realise its true value."
The offer made by Indian Hotels Company was to acquire all the outstanding shares of OEH for $12.63
per share. This represented a total stake of 93.1 per cent in the company. Indian Hotels Company had also agreed to buy OEH debt of $540 million.
"You continue to state publicly that you are offering a significant premium but your opportunistic proposal was made at a time when the price of the Orient-Express shares has been significantly depressed.
"Orient-Express shares have been negatively impacted by various factors, including economic turbulence particularly in Europe, important properties in the midst of refurbishment projects and the transition to the new CEO.
"In short, we strongly believe your proposal is significantly below the value of Orient-Express. Accordingly, our board has determined that it is not in the best interest of Orient-Express and its shareholders to pursue you proposal," added Lovejoy.