After consumers exhaust the year's quota of six subsidised liquefied petroleum gas (LPG) cylinders announced by the Union government, oil marketing companies (OMCs) would charge them at the market rate for additional cylinders.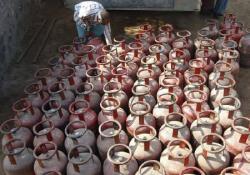 This is despite several Congress-ruled states saying they would provide three additional subsidised cylinders. For these states, OMCs want the price differential for the cylinders to be transferred directly to consumers.
"We are governed by the central government and, as directed last month, we will bill the seventh domestic cylinder at market rates, irrespective of what states wish to offer to its citizens," said a senior OMC executive.
"If any state wants to grant additional subsidised cylinders, it will have to pass on the subsidy directly to consumers. States need to evolve a mechanism of compensating the difference on three additional cylinders directly to consumers," said M Nene, director (marketing) at Indian Oil, which services about 45 per cent of the domestic LPG market.
Nene added it didn't make economic sense if OMCs had to provide three additional subsidised cylinders in a number of states and bear the interest burden till the amount was reimbursed to them by states.
On September 13, the Union government had announced a consumer would get up to six subsidised cylinders (currently Rs 410 a cylinder in the capital). It added consumers would have to pay Rs 894 for every additional cylinder. For the period between September 13, 2012 and March 31, 2013, all consumers are eligible for three subsidised cylinders; they have to pay market prices for additional ones.
Most Congress-ruled states, including Haryana, Maharashtra, Assam and Delhi, had announced three additional cylinders to consumers at subsidised rates. Interestingly, no state government is learnt to have approached OMCs to work out the modality for this.
The three government-owned OMCs - Indian Oil, Bharat Petroleum and Hindustan Petroleum - together meet the country's entire LPG cylinder demand. An OMC official said the provision of three additional cylinders at subsidised rates would be a "poor model". The executive cited the example of the 'Deepam' scheme by the Andhra Pradesh government. Then, the company had faced hurdles in securing payments from the government.
The Andhra Pradesh government had launched the scheme in 1999 to distribute a million LPG connections to women in rural, below-poverty-line families.