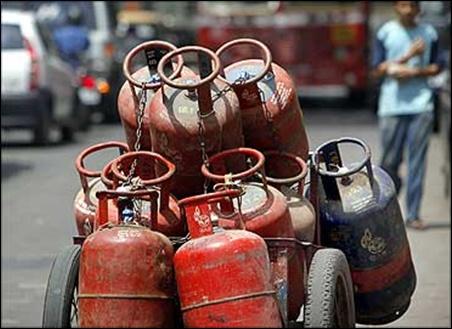 Having capped subsidised LPG cylinder to six, the government plans to move to a single price for domestic LPG by directly transferring subsidy to consumers with or without Aadhaar number.
A committee of officials from ministries of petroleum, banking, expenditure, finance and UIDAI will prepare a white paper on the modalities of direct transfer by next month.
In a meeting held in the Prime Minister's Office earlier this month, a decision has been taken to gradually initiate Aadhaar and non-Aadhaar based LPG subsidy transfer through the oil marketing companies- IndianOil, Bharat Petroleum and Hindustan Petroleum.

While the government has attempted to check wasteful use and diversion of subsidized LPG by putting an annual cap of six cylinders beginning last month, a single price coupled with direct transfer will further remove an incentive for unauthorized deliveries.
With over 80% Aadhaar coverage, Mysore district was chosen for a pilot scheme linking the unique Aadhaar identity numbers with domestic LPG supply, to prevent misuse of subsidised LPG. The pilot started around August last year and aims to test efficacy of direct subsidy transfer on domestic LPG.
As a test case, oil companies charge Mysore consumers a price that is Rs 10 per cylinder higher than other districts in the state and this amount gets credited back to the consumers' account that is Aadhaar linked. However, it is learnt that State Bank of India which is the sponsor bank in this pilot is seeking a transaction fee for transfer of subsidy.

The petroleum ministry has sought a clarification from the Department of Financial Services if such a fee can be levied by SBI.
A dual pricing of domestic cylinders has come into being after the cap was imposed. In the capital, a domestic consumer is entitled to get six LPG cylinders at a price of Rs 410 each while he will have to pay a market price of Rs 894 for each additional cylinder. 

Under the proposed single price regime, all domestic LPG cylinders will be sold at market price and the differential on the first six will be directly transferred to Aadhaar Enabled Bank Account of consumers.
Though the Aadhaar identity has emerged as a tool to eliminate duplicates and fake identities in LPG connection but considering its low penetration, the government will have to depend on bank accounts for customer authentication as well as subsidy transfer, said an oil company executive.  
LPG pilot was also planned for Hyderabad and Pune but it could not take off. In Hyderabad, it has been temporarily suspended as consumers are unwilling to share Aadhaar and related details with oil companies and state government has ruled out compelling consumers.

In Pune, it has been altogether suspended due to low Aadhaar penetration. The government now plans to extend pilot to 50 districts.