While the cab aggregators offer incentives as they battle each other for more customers, drivers complain that their earnings have halved in the last six months. Alnoor Peermohamed reports.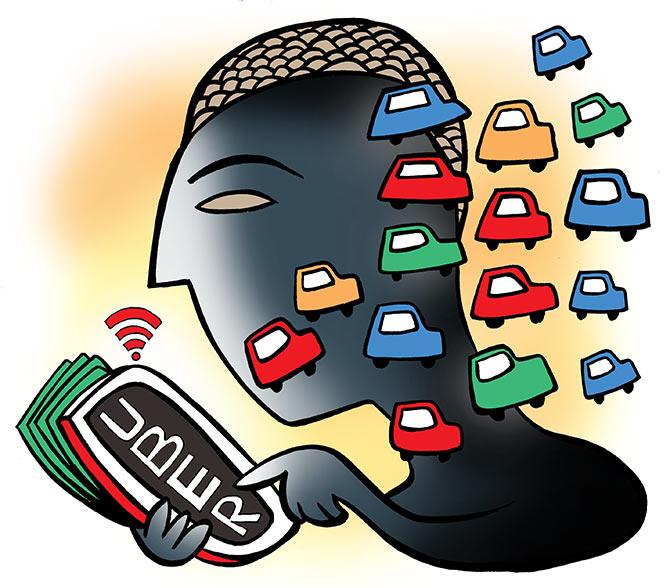 Drivers across India on popular cab aggregator platforms Uber and Ola are protesting against falling earnings, the result of a series of missteps the two companies have taken in their pursuit to outdo each other. In cities such as Bengaluru, Hyderabad, Ahmedabad and Chandigarh, many drivers have gone off the roads.
Fares have hit rock bottom (Rs 4-6 per kilometer) as both the companies battle each other for customers, and while they continue to offer incentives, drivers complain that their earnings have halved since the last six months.
Both companies are looking to offer the cheapest fares to customers, maximum earnings to drivers and to bring more supply onto their platforms. They have subsidised loans on cars. However, with dropping fares and creating more supply than what is required, driver earnings have taken a big hit.
"We cannot pay our EMIs (monthly instalments) as there is no business and whatever business we are getting, it's a very low priced business. When we started working with them they committed -- be your own boss, purchase a new car and be a lakhpati (person who earns lakhs of rupees). There was a minimum Rs 1 lakh business guarantee, but nowadays we are not earning even Rs 20,000," said Tanveer Pasha, president of the Uber, TaxiForSure and Ola (UTO) Drivers' and Owners Association.
Uber and Ola are also under pressure to turn profitable.
Uber doesn't want India to turn into another China, where it was burning $200 million every month before it was forced to sell its business to rival Didi Chuxing.
For Ola, it has come under pressure to improve earnings in order to bring back investor confidence and attract more capital to take on Uber.
Unlike e-commerce companies that sold goods at a loss, both Uber and Ola earn commission of as much as 30 per cent on each ride.
Around mid-2016, both companies began moving away from a 'number of rides' based incentive structure for drivers to an 'earnings' based structure. The logic was to shut drivers up from protesting the insanely high number of trips these companies were forcing them to do in order to serve their fast-growing customer bases.
Now, with fares bottomed out, drivers are unable to earn enough despite doing several trips. Many complain that they're being forced to work 18 hours a day to earn Rs 40,000 to Rs 50,000 in a city like Bengaluru, the largest market for both Uber and Ola in India, which has over 1,00,000 cabs on its roads.
According to analyst Valoriser Consultants, the number of cabs on Bengaluru's roads has grown from 66,000 in 2013-14, to 78,000 in 2014-15, to 1,13,000 in 2015-16. With this, the number of trips has also increased.
However, growth has now dropped to 3-5 per cent per month from 40-50 per cent last year.
Moreover, driver incentives as a percentage of the trip value has fallen from 400 per cent in January 2016 to 70 per cent in January 2017.
"What is happening is the companies have too much of supply, so they're not really worried about losing even 10-15 per cent of that. This is the first phase -- they have cut down incentives but the next phase will be to increase the fare. They don't want to do it together because right now it will decrease supply and in the future when fares go up, it'll reduce the demand. They will try to find their own new equilibrium in the market in terms of demand and supply," said Jaspal Singh, partner at Valoriser Consultants.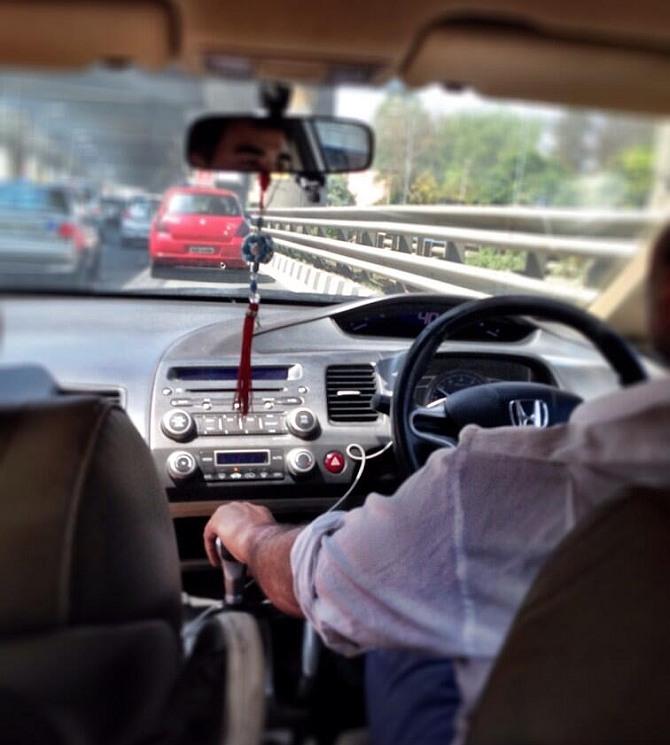 IMAGE: Drivers say b

oth Ola and Uber have setup in-house leasing units in India to bring more cabs onto their platforms, going against their business models of not holding inventory.

"They are giving their vehicles on lease terms to drivers and giving them more business than us," the drivers' association alleges. Photograph: Uber Delhi/Twitter.

With that many cabs on the roads, drivers are also complaining of oversupply that is leading to reduced business for all of them. Both companies have setup in-house leasing units in India to bring more cabs onto their platforms, going against their business models of not holding any inventory.
"They are giving their vehicles on lease terms to drivers and are giving them more business than us," added Pasha.
For the cab companies, there's a fine line to balance fares, supply and driver incentives. If fares rise too high, riders might stop using their services which will in turn lead to a drop in business. Further, if there's an oversupply, their incentive structures won't work since drivers will never be able to hit targets.
While neither company will admit it, their models revolve around always having a slightly lower number of cabs than is actually required. The key is surge pricing, which helps balance demand and supply, but this has been banned by states such as Karnataka and Delhi when they forced these companies to adhere to fixed fare caps.
"It's obvious that driver earnings were going to fall. Every company when they enter a new market will look to pay big incentives to attract more people and build a base. Now that there is some scale incentives will go down, but I don't think the change is as drastic as it is made out to be," said an employee of Uber with knowledge of the matter who did not want to be named.
Relief is at hand in the form of a Central government amendment of Section 93 of the Motor Vehicle Act that will free cab aggregators from following fixed fare caps. The draft guidelines from the Centre frees premium cabs from adhering to any state prescribed fares -- all cabs on Uber and Ola's platforms will be categorised as premium cabs since they are A/C cabs.
However, despite this, the problem of drivers being dissatisfied with earnings could still persist. Globally, even in regions where Uber has had no caps on fares, drivers have complained that their earnings have steadily come down as the company looks to become profitable.