Besides high rate of rejection, experts say administrative processes remain tedious and frustrating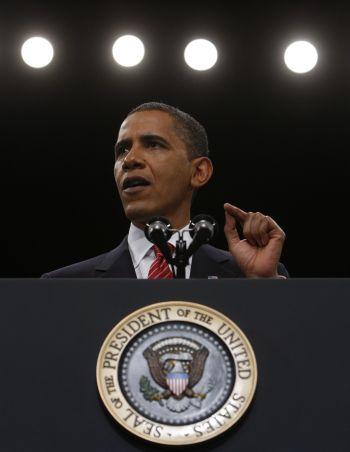 Even as US President Barack Obama on Tuesday pledged to ease the process of getting L-1B visas, experts believe there might not be much reason for Indian information technology services companies to cheer, as of now.
Most senior industry players said until the government takes some concrete action to make it easier for Indians to get a visa in the category there is not much relief in sight.
With around 70 per cent of its revenues coming from the US, Indian IT services sector heavily depends on US visas.
The L-1B visa, which is issued to 'specialised knowledge professional', is used by Indian IT services companies to send employees for non-delivery functions such as sales and finance to the US.
In several cases, senior management of companies also use this category for working in the US.
"The press in India has carried reports to indicate that the provisions of the 2015 Draft L-1B Memo are going to be advantageous to Indian companies and are part of some great plans that President Obama has with regard to India.
"After an initial reading of the memorandum we are not very optimistic about this — there is no magic waiting around the corner for L-1B workers from India!" said Poorvi Chothani, managing partner at LawQuest.
"LawQuest will further analyse the 2015 Draft L-1B Memo to determine if it does provide more definitive parameters to help qualify L-1B workers, including those from India."
Earlier this month, the National Foundation For American published a report titled 'L-1 Denial Rates Increase Again For High Skill Foreign Nationals', which said Indian nationals face the highest refusal rates in the L-1B visa programme at 56 per cent, whereas the denial rate for nationals of Canada, Britain and China were at 4 per cent, 16 per cent and 22 per cent, respectively. Canada filed for the second highest number of petitions (10,692).
Several top leaders at leading IT services companies highlighted that the high rate of rejections have less to do with strict norms and more with 'administrative processes', which they said are 'tedious and frustrating', and will need much more action than just the government's intent.
Industry body Nasscom, too, maintained the denial rate for L1-B visa remained at a high of almost 56 per cent. Add to this, the request for evidence is almost at a high of 45 per cent. This means more paper work, more time and a much higher investment in getting an L1-B visa.
"In 2006, the rejection rate for L1-B visa was about 6 per cent, and in 2014 it is almost 56 per cent.
"Compared to any other country the denial rate for Indian's applying for L1-B visa is much higher. We are yet to read the fine print of the order.
"But we have been asking the US government to give us more clarity on the definition of specialised knowledge," said Shivendra Singh, VP global trade development, Nasscom.
According to Workpermit.com, between 2009 and 2013 there was an average of 68,000 L-1 visas issued a year.
More could be issued as there is no annual quota.
According to Nasscom, over 20,000 applications for L1-B visas would have been 'made by Indian companies alone.
The chief financial officer of a mid-size IT services company, who did not wish to be identified, said he had faced serious challenges for getting a L-1B visa for himself despite having been in the industry for over 25 years and being a prominent name in the business.
"The authorities continued to find issues with my application and kept asking for documents and details that were already filed," he said.
"This continued for months, after that there was no need for my visit any more."
The NFAP report said (as reported by gatewayhouse.in), 65 per cent of Indian petitions had "requests for evidence" attached to them compared to 3 per cent for Canadians and 35 per cent for the British.
Often the end result is that a company cannot complete a contract in time and the job goes to a competitor operating wholly outside the US, beyond the reach of US Citizenship and Immigration Services.
In an earlier interview to Business Standard, Ajoy Mukherjee, vice-president and global head, human resource, at Tata Consultancy Services, had acknowledged that rejections rate for L1-B visas has remained high in general, and even for the company the rates have been at the higher end.
Chothani highlighted the US CIS has not been able to clearly establish what constitutes 'specialised knowledge', leaving it vague for why an applications is accepted or rejected.
"The adjudication of L-1B petitions has been erratic, leading to unpredictability and loss of business for many US companies."
Chothani said. "The 2015 Draft L-1B Memo memo seeks to "provide consolidated and authoritative guidance on the L-1B programme, superseding and rescinding certain prior L-1B memoranda."
"An initial reading of the memorandum is not very reassuring as it seems like old wine in new bottle."
Singh points the timing of the announcement is also significant, as the US president has linked the L1-B visa guidelines to more investment opportunities in the US.
Image: US President Barack Obama; Photograph: Reuters