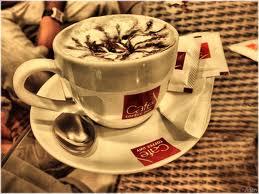 Cafe Coffee Day hopes to fight the Starbucks challenge by going door to door with its services and innovating with its merchandising
On December 2, Coffee Day Enterprises, which owns the Cafe Coffee Day chain of cafes, began a pilot to deliver hot coffee with snacks to homes in select parts of Bengaluru.
Once successful, as has been the experience in the past, the Bengaluru experiment will be scaled up and the service will be extended to other cities, too.
Bengaluru is the hometown for Coffee Day Enterprises, where 15 years ago it started brewing coffee in a cyber café, introducing cappuccino, the Italian espresso to new coffee drinkers with high speed internet on the side.
CCD's target group was the young and urban professional, working with a limited budget and new to the café culture.
It positioned itself as an affordable and youth friendly alternative to another newly opened coffee chain, Barista, which offered similar fare but at much higher prices.
Times have changed significantly since then.
Coffee Day has 1,555 outlets across India, even smaller towns and highways.
It has 32,071 vending machines in offices across the country.
It is present at railway stations and airports. And Barista, from being nearly numero uno, has nearly disappeared. But there have been many others who have entered the fray; Starbucks, the US cafe chain that has a tie-up with the Tata group has around 80 outlets, offering consumers the experience of an international brand in Indian cities.
Plus there is Costa Coffee, Gloria Jeans and a fair number of local cafes catering to a growing brood of coffee drinkers.
Coffee drinking is now more common as is the practice of hanging out at cafes.
Coffee Day, which listed on the stock exchanges in November, says that average sales figures per day, at its outlets, would be close to Rs 13,448 and the number is increasing by the quarter.
Starbucks that has recently seen a change in its leadership did not participate in the story.
India offers a large opportunity for the coffee chains, especially as a range of new businesses come up, the economy grows and people can afford to pay a premium for their cup of java.
However, cyber cafes, once all the rage, especially when CCD made its debut have all but vanished from public view.
Internet today is available on the go but as the team at CCD that has been looking closely at the brand and its value proposition points out, cafes are still locked into the retail format.
They have become extremely popular and are seen as purveyors of a culture of cool, but there has been little else that has changed since they first made their appearance in India.
"Customers are demanding a differentiated food experience.
The repertoire of food and desserts at our cafes meet their demand," says Bidisha Nagaraj, group president, marketing at Coffee Day.
"Our consumer research showed that people were cool to the idea that coffee and snacks from Coffee Day would be delivered to their door step."
But will it not wear the brand thin, if it adds on delivery to its range of services? Coffee Day says that customers don't want to drink only coffee, but also want to dig into some snacks.
CCD regulars favour both Indian and Continental fare when they come to cafes, research showed.
And hence the company saw home delivery services as a natural extension of the brand, something that had to be done.
It has tied up with hyper local food delivery startup Swiggy, which will manage its orders and deliveries.
Coffee Day wants to be able to deliver the same café experience to people back home.
This is also why it has developed its branded merchandise too, CCD offers coffee makers, cups, mugs and other products at its stores.
It is keen to establish the association with coffee and its brand as closely and effectively as possible, given that the coffee consumption in India is on the rise and its dominion is being challenged by Starbucks.
Coffee drinking in non-traditional areas such as Maharashtra and Delhi grew by 43 per cent last year.
Today, the bulk of India's coffee is produced in Karnataka, with a spill-over in the Kerala and Tamil Nadu.
In the southern states, consumption is growing a mere 2.5 per cent, but this growth is over a larger base. India produces around three million tonnes of coffee, a third of which is consumed locally.
A decade ago, the gap was huge, only 25,000 tonnes were consumed in India, and the rest exported.
"Drinking coffee is seen to be cool even in states that are not traditional coffee drinkers.
Credit is due to the cafes," says Anil Kumar Bhandari, president, India Coffee Trust, which promotes coffee consumption in India. Cafes such as CCD are direct beneficiaries of the rising coffee consumption.
Nagaraj says that the CCD brand has evolved and matured over the years, with premium concepts such as Lounge and Square having been introduced.
She says, "The Lounge and Square, they are like toppings on the cake.
Lounges are less crowded and offer more choices on the menu. Square is plush and meant for the coffee connoisseur.
The idea, as with its newly opened delivery service and its branded merchandise is to cater to every need of the Indian coffee drinker.
"We are like a pair of jeans. There is an unpretentious air about us. That is what people like," Nagaraj says.