The partnership has been rolled out by Zomato to users in 27 cities across 13 countries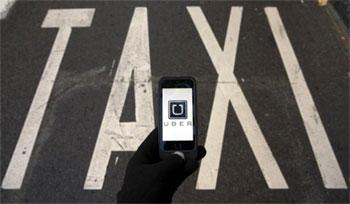 Post closing it's ninth deal on Tuesday, Zomato has now signed up for a global tie up with cab aggregator Uber to help both service providers bring more on the platter for their users across the globe.
The partnership has been rolled out by Zomato to users in 27 cities across 13 countries. The countries where the service will be available include India, Australia, Canada, the United Kingdom, South Africa, Indonesia, New Zealand, The Philippines, Portugal, Qatar, Turkey, UAE, and the United States.
Zomato will bring the seamless Uber experience to the Zomato app, enabling users to book cabs to the restaurant they are planning to eat at. The feature has already been made available to Zomato users in London and South Africa, and will now be rolled out to users in these other key markets.
Pankaj Chaddah, Co-Founder and COO of Zomato, said, "We're constantly looking for ways to make every meal, for everyone, a great experience. This partnership makes eating out more convenient with the Zomato app connecting to Uber services seamlessly."
Eric Alexander, Head of Business, Asia - Uber, said, "We are delighted to be expanding the scope of our partnership with Zomato. Across six continents, Uber allows riders to connect with their cities in new ways. Through this API integration, Zomato users in 13
countries will now be able to reach those hidden gems in their cities seamlessly and in style."
Zomato's partnership with Uber clearly shows the Gurgaon based company is also looking to build its own eco system in rapidly growing e-commerce market.
Once a user has found a place to dine or have drinks by using the Zomato app, a single tap on the Uber button on the restaurant page will allow one to find the nearest Uber cab.
In addition to seeing the estimated fare and how long it will take for the Uber to arrive, one will also be able to choose the Uber service that best suits one's need.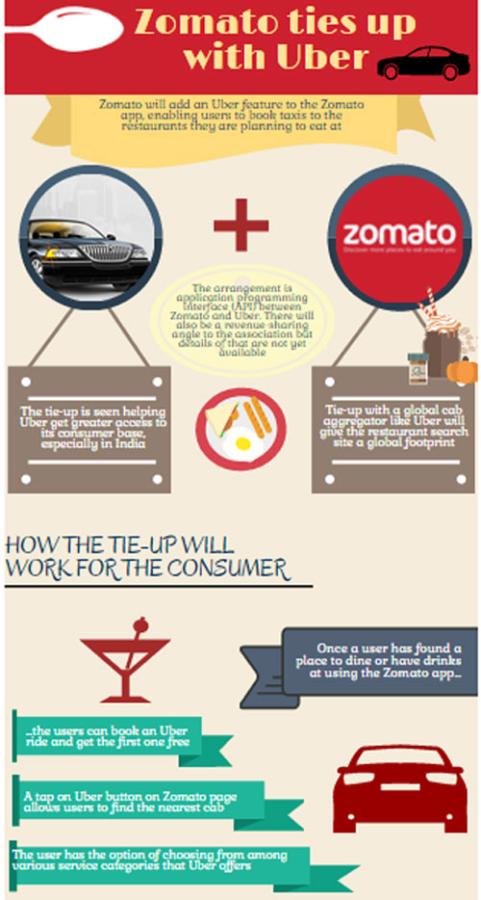 Acquisitions by Zomato
2015
NextTable, USA
MaplePos, India
Mekanist, Turkey
Urbanspoon, USA
2014
Cibando, Italy
MenuMania in New Zealand
Lunchtime in the Czech Republic
Obedovat in Slovakia
Gastronauci in Poland