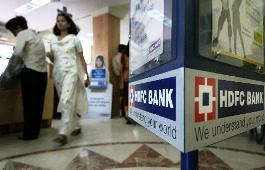 HDFC Bank, that has launched premium credit cards exclusively for women, said on Wednesday it expects to add 4 million credit card customers in the next two years.

The bank has about six million credit card customers.

Of this, 1.5 million customers are women.

"We want to hit 10 million credit cards in the next two years and want the women's portfolio to significantly contribute to this with 2 million cards," HDFC Bank country head, (retail assets) Pralay Mondal told reporters in New Delhi.

The bank has launched a special card, Solitaire Premium, with a credit limit of Rs 500,000 for women.

The other card Solitaire again introduced exclusively for women has a credit limit of up to 200,000.

The bank, which is the biggest issuer of credit cards in the country, will come out with new credit card products, including co-branded
card, every quarter.
"That commitment remains. The bank will launch new product every quarter," Mondal said.
Talking about the features of the new card, Mondal said while Solitaire will provide unmatched lifestyle offers, its wellness aspects will help women take holistic care of themselves in the midst of a busy career.
"We are looking at developing specific products for a complete bouquet for the entire family," HDFC Bank country head, (credit cards) Parag Rao said.
"We felt there was a vacuum in the premium credit card segment for women.
"We are sure that Solitaire will fulfil a long-standing need of women who are pursuing a successful career, travelling the world and are at the forefront of the global consumption story,"  Rao said.
With Solitaire, Infinia and a pack of travel cards, HDFC Bank launched in the last 6 months has now an unparalleled premium bouquet of plastics in India, Rao added.