'Unless India Inc's earnings offer promise in the March 2017 quarter, sentiment may not reverse in a hurry,' reports Hamsini Karthik.
Illustration: Dominic Xavier/Rediff.com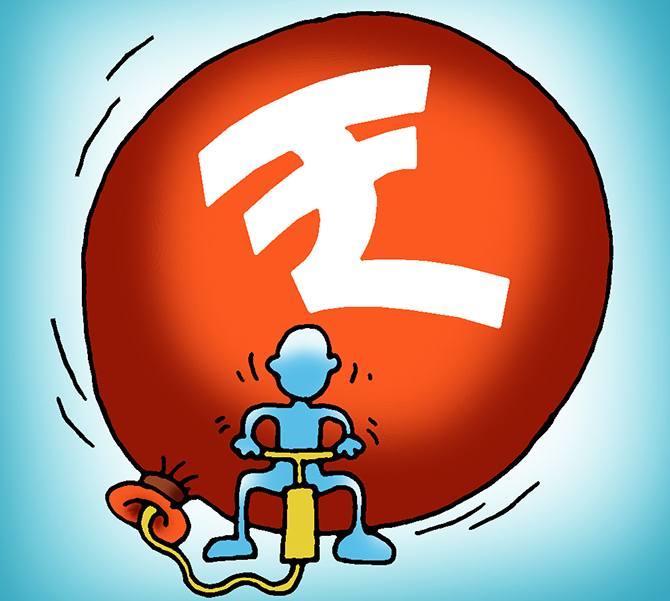 Outcomes of November 8, particularly the government banning the use of certain high denomination notes and Donald Trump emerging President-elect of the United States have had a lasting impact on the Indian equities.
The BSE Sensex, which until November 8, 2016 gave 5.6% year-to-date returns to investors, witnessed a major directional shift.
While on December 22, 2016 all the year-to-date (YTD) gains of the BSE Sensex were erased, on Monday's trading session, even the Nifty 50 index caught up with this trend.
As on December 26, 2016, YTD returns of both the bellwether indices stand in the negative territory -- the Sensex registering YTD loss of 1.2% and the Nifty trading marginally low by 0.4% YTD.
With these heavyweights plunging into losses, year-to-date gains in 106 out of 200 stocks or over 50% of stocks constituting the BSE200 index have also been erased.
What's more, hopes for 2017 are also muted.
Stocks such as Reliance Communications, Wockhardt, Idea Cellular, Jet Airways and Jubilant FoodWorks, which were already reeling under pressure for most of this year, saw their losses accentuate post November 8.
Experts say the demonetisation move has had a larger impact on Indian equities.
The event has in fact caused widespread market mayhem that even stocks such as Bharat Financial Inclusion (formerly SKS Microfinance), Shriram Transport, DLF and Dewan Housing Finance, which enjoyed gains of 33% to 65% from January 1, 2016 till November 8, saw a mammoth reversal in trend post the note ban.
Year-to-date losses of these stocks now stand between 2% to 9%.
Experts believe that with the structural imbalance caused to the sectors in which these stocks operate, they could be under pressure in 2017 also.
Interestingly, it's largely the cyclical such as metals, oil and gas and select healthcare stocks holding up their yearly gains.
While Vedanta tops the list of 2016's winners so far with YTD gains of 131%, Hindalco, Biocon, Hindustan Zinc, and Indraprastha Gas follow suit with gains of 67% to 79% from January 1, 2016 till date.
In this backdrop, experts say the return expectation from equities for 2017 is also muted especially after having high hopes on the Indian market in 2016.
Nilesh Shah, MD & CEO, Envision Capital feel the return expectation for 2017 is rather muted for now.
"Unlike in 2016, we are getting into the new year without much expectation," he points out.
Experts explain that a combination of good monsoons and growth-oriented Budget led to have high hopes on Indian stocks in 2016.
"For most of 2016, there was a definitive hope of earnings improvement and good monsoon also helped the positive outlook. All that was disrupted due to demonetisation," Santosh Singh, head of research, Haitong Securities spells out.
U R Bhat, MD, Dalton Capital Advisors, adds that the Union Budget also bumped up hopes of earnings recovery in 2016.
"None of this has panned out so far," he highlights. "Right now we are stuck in a zone where most investors are revalidating valuations as at least two quarters of flat earnings growth is ahead of us," Bhat notes.
Most market men say that unless India Inc's earnings offer promise in March 2017 quarter, sentiment may not reverse in a hurry.
Shah also points out that apart from earnings improvement, 2017's Union Budget will also hold a lot of relevance for Indian equities.
"Government will have to do a lot more in next year's Budget," he states.