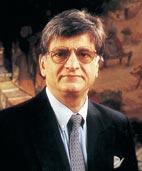 Sir Gulam Noon, leading Non-Resident Indian and Chairman of Noon Products, known for readymade Indian food products, won the Asian Business Award for Community Services in London on Tuesday night.
Sixty-eight-year-old Sir Noon received the award at the 8th Annual Gala Dinner for the Asian Business Awards hosted by Eastern Eye and Ethnic Media Group in London.
Prince Michael of Kent was the chief guest at the dinner attended by about 600 guests, including Lord Swraj Paul, NRI industrialist and British Ambassador for Overseas Business, Lord Navnit Dholakia, President of the Liberal Democrats, and Baroness Lady Flather.
Noon's career began early in Mumbai, following the death of his father, with the family owned, Royal Sweets. However, he soon grew restless, and in 1971 Noon settled in the UK.
"A combination of his own entrepreneurial drive and growth in the Asian food market meant that Noon was in the right place at the right time and, with impeccable timing, he was able to rapidly grow his business from two to 20 shops selling Indian sweets," the report said.
Noon's next stopover was in the United States in the early 1980s where he spent four years working for the Taj Group.
Returning to the UK, in 1987 Noon set up the business that bears his name and in 1989 the company began trading and introduced chilled and frozen Indian food to a waiting UK market.
Noon currently owns the largest ready-made food-manufacturing factory in the world. It was inaugurated in the UK last July by Prince Charles. The production capacity of the company has now doubled from 1 million to 2 million in ready meals per week, the report said.
The top 200 Asian Rich List was released on the occasion. Lord Swraj Paul and family emerged as the fourth richest Asian in the United Kingdom with a total wealth worth £250 million.
The top honour went to Mike Jatania and family (cosmetics and beauty products) who are worth £500 million, followed by Vijay and Bhikhu Patel (pharmaceuticals -- £425 million) and Tom Singh (fashion -- £330 million).
According to the report, Lord Paul 'has seen a rise in fortune this year.'
"Lord Paul had a difficult year last year with restructuring and a loss of employees but since then has seen a marked improvement. He remains chairman of the company -- Caparo -- with his three sons responsible for day-to-day operations," the report said.
Sixty-one-year-old Joginder Sanger, leading NRI hotelier, finds a place in the rich list with assets worth £20 million.
When he first came here in 1962, he opened a travel agency making sales for Air-India, and PanAmerica.
"He now has several business interests, including the Washington Hotel in central London and Mastcraft, a property and life assurance company in the competitive hotel industry," the report said.
Sanger has purchased his own five-star Bentley hotel in the heart of London's Kensington.
Gurinder Chadha, who came to limelight with her hit film Bend It Like Beckham, makes the list with a fortune worth £5 million.
Kirit and Meena Pathak, who are embroiled in family disputes and court cases, are the 20th richest Asians with a wealth worth £75 million.
Raminder Singh Ranger, managing director of two Greenford-based companies, Sea, Air and Land Forwarding Freight Ltd and Sun Oil Ltd, is the 54th Richest Asian in the UK with assets worth £38 million.
Forty-two-year-old Karan Bilimoria, founder of Cobra Beer -- who was awarded three entrepreneurial awards: London Business Awards, Entrepreneur of the Year; Ernest and Young, London Entrepreneur of the Year for Consumer Products, and Entrepreneur of the Year, Asian Business Awards in 2003 alone -- is 76th richest Asian worth £28 million.
At the awards ceremony last night, 28-year-old Jojar S Dhinsa, bagged the Newcomer of the Year award.
Jojar, whose parents came from India in 1960, started his working life doing a paper round. He soon progressed to trading lawnmower parts and made his first £1,000 at the age of 13, a fortune in his eyes. He is worth £40 million now.
Other recipients of the awards were: Charan Gill (worth £15 million) (Eastern Eye Entrepreneur of the Year award), Kal Kaur Rai (Young Achiever award), Balraj Marwah and wife (Help the Aged Seva Award), Abid Hussain (Innovation award), Sehzad Hussain (UK Trade and Investment International award) and Ramesh Sachdeva (Businessman of the Year award).