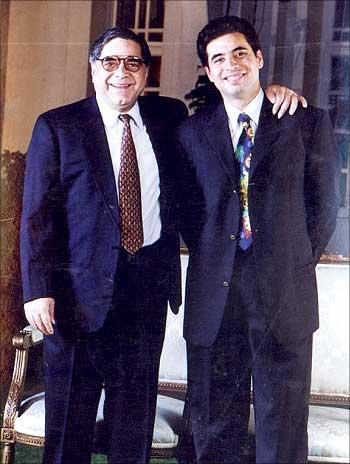 Around 300 promoters serve their company boards for free.
In 1997, Steve Jobs returned to the helm of Apple after a gap of 12 years. For the next 14 years till he retired, he drew an annual salary of $1. He let the 5.5-million Apple shares do the earning for him. And, they didn't disappoint going up about a hundred times, when Jobs went about changing the world.
There are several promoters serving on the boards of their Indian companies, who don't draw any remuneration at all from their companies. This is despite the fact that many of them have executive roles. The numbers offer a contrast to growing discontent over increasing levels of C-suite remuneration.
An analysis of remuneration data reported by 1,450 National Stock Exchange-listed firms in their annual reports for 2015-16 showed that 1,043 non-independent directors did not draw any remuneration for the year. This number compiled by Prime Database included several nominee directors, who were appointed by the government companies and other institutional investors.
Of these, around 300 promoter-directors did not draw any salary or sitting fees for their board roles. Among the Nifty firms, Anand Mahindra, chairman of Tech Mahindra, was the only non-nominee director in the list of 33 directors who did not draw any pay. Others were mostly government and investor nominees in State-owned companies such as Coal India, NTPC, and BHEL.
Some family businesses have made it a policy not to draw any salary for board roles. The entire Burman family -- Anand Burman, Amit Burman, Mohit Burman and Saket Burman, who have roles of chairman, vice-chairman and non-executive directors, do not draw any remuneration from Dabur India.
In response to an email seeking comment on the practice, a Dabur spokesperson said: "The family restricted their presence on the board of directors of Dabur India Ltd to four non-executive members with the balance being independent directors. Since the family members did not hold any executive role in Dabur, as a good corporate governance practice, they decided not to draw salaries from Dabur."
The Burman family had in 1998 handed over the management control of Dabur India Ltd to a professional team. The family, then, moved away from day-to-day management. A family council was set up and the promoter family decided that no Burman family member would get an automatic entry into Dabur. They would rather be encouraged to set up their own business ventures, the spokesperson added.
Venugopal Dhoot of Videocon Industries, GVK Reddy in GVK Power, Kiran Kumar Grandhi of GMR Infrastructure, Hari Shankar Bhartia of Jubilant Life Sciences, Siddarth Hegde of Coffee Day and Atul Punj of Punj Lloyd are managing directors having a hands-on role in their companies. Yet, they did not draw any salary in the last financial year.
Shyam Sunder Bhartia of Jubilant Industries, Narendra and Samir Gehlaut of Indiabulls Real Estate were among promoter directors in a non-executive role, who did not take home any pay.
Mahindra, Gautam Adani in Adani Power and Adani Transmission, Dilip Shangvi in Sun Pharma Advanced Research and Sajjan Jindal of JSW Holdings are examples of directors who drew salary in some firms and not in others.
Billionaire Investor Rakesh Jhunjhunwala, who is a promoter shareholder of Aptech, did not charge any fee or salary for his role as non-executive chairman.
Human resources experts say promoters prefer to benefit out of the performance of companies. Returns through dividends and equity appreciation are also more tax-efficient than salaries, they add.
Kris Lakshmikanth, founder, The Headhunters, said, "Only professionals take salaries. Owners don't. They earn more through dividends and appreciation in shareholding. That has been the practice traditionally as it was also tax-efficient, especially when not very long ago, tax rates in India were over 90 per cent."
Lakshmikanth added that examples such as Marans of Sun Network, who have drawn criticism for high salaries, are more an exception rather than a rule.
Image: V C Burman with son Mohit Burman. The entire Burman family, who have roles of chairman, vice-chairman and non-executive directors, do not draw any remuneration from Dabur India. Photograph: Dabur website.