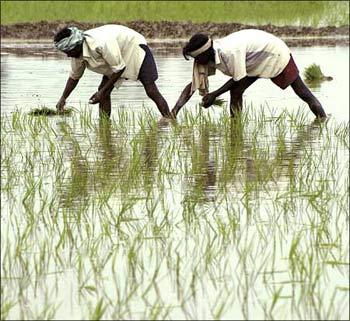 To improve the operation of commodity exchanges and enable better reflection of actual prices, the Forward Markets Commission has told all of them to not allow trade in non-agricultural commodities on Saturdays.

Agri commodities are exempt for now.

The commodity derivatives markets regulator said on Wednesday the move had been decided on feedback from exchanges, their members and physical markets' participants.

Until now, trading was allowed in both agri and non-agri commodities on Saturdays for a half-day, from 10 am to 2 pm.

Around two per cent of the total monthly volume was generated on Saturdays.

The six comexes -- MCX, NCDEX, NMCE, ICEX, ACE and UCX -- clock an cumulative monthly turnover of Rs 20,000 crore on Saturdays, as against around Rs 900,000 crore (Rs 9,000 billion) generated through the month.

FMC says comexes will, instead, on Saturday attend to maintenance of records, housekeeping, compliance matters and the like.

As for agri commodities futures, the position here would be reviewed after three months. FMC has told the comexes to send a compliance report in four days.

"This was our demand since long, which the FMC has met now. Nothing unusual is likely to be seen on overall turnover," said a senior official with a leading exchange.

In contrast, Priti Gupta, executive director at financial services firm Anand Rathi, believes: "This volume generated
on the exchange platforms on Saturdays will be completely lost.
"Most of the non-agri trades are coming from day traders.
"Anyway, comexes have been losing volumes consistently.
"This will be another reason for the fall." Comexes' cumulative turnover fell 17.4 per cent in the first five months of the current financial year to Rs 59 lakh crore (Rs 59 trillion), as compared to Rs 71.4 lakh crore (Rs 71.4 trillion) in the corresponding period last year.
Sources close to the development said FMC had decided to align domestic comexes with global ones.
Since global markets remain closed on Saturday, the benchmark reference price in globally traded commodities would be unavailable.
"As a consequence, futures trading in non-agri commodities was a big risk for domestic traders," said Gupta.
On agri trades, some of the exchanges had told FMC it should be allowed to continue, as "the domestic physical markets for agricultural commodities usually remain open on Saturdays".
Sources say FMC is likely to also suspend trading in agri commodities on Saturdays after three months.
Also, say sources, the trading time in agri commodities is to be enhanced by three hours, to 8 pm, from January 1 on working days as compared to 5 pm at present.
"Since the spot mandis across the country remain open up to 8 pm, futures trading should be made available up to this time, so that traders would be able to hedge their parallel risk in both markets together," said an official.