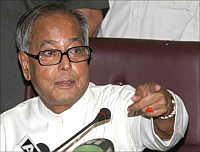 Much awaited Bihar agriculture roadmap was formally launched by President Pranab Mukherjee on Wednesday in Patna.
President Mukherjee, who arrived on a two-day visit to the state, was received by Governor Debanand Knowar and Chief Minister Nitish Kumar and given guard of honour at the Patna airport, launched the agriculture roadmap, prepared by the state government.
The five-year agriculture roadmap covers the period 2012-17 with an investment of Rs 1.52 lakh crore (Rs 1,520 billion) aimed at rising agri-growth to a minimum of seven percent per year.
The agriculture roadmap focuses on development of food processing, food preservation, fisheries and animal husbandary.
Bihar agriculture roadmap is first of its kind in the country that focuses on development of food processing, food preservation, fisheries and animal husbandry.
According to agriculture roadmap, under the Bihar Hariyali Mission, 24 crore trees will be planted in the next five years to increase the forest cover of the state from nine per cent to 15 per cent.
'Vriksha Palaks', who will be selected from the weaker section of society,
will look after the trees and, in return, get the benefits of the tree produce.
The roadmap also stressed for inter-linking of rivers and irrigation through surface water, in which water will be shifted from one river basin to another.
The state government has also decided to complete the process of consolidation of land holdings in the next five years. In the next three years, a survey will be conducted covering the entire agricultural land of the state and a map prepared with the help of photographs taken from an aircraft for the consolidation purpose.
The roadmap has also fixed a target for cold storage capacity. At present, cold storages have the capacity of 11 lakh tonnes, which will be extended up to 75 lakh tonnes in five years and 100 lakh tonnes in the next 10 years.
Mukharjee will also attend the Darbhanga-based Lalit Narayan Mithila University's fourth convocation as chief guest during his visit.
It is the first visit of Mukherjee to Bihar as president. Mukherjee is visiting Bihar on an invitation from Chief Minister Nitish Kumar.
Soon after Mukherjee was elected president, Nitish Kumar had invited him to visit Bihar.