Wife Nita, who joined the board as non-executive director in FY15, draws Rs 84 lakh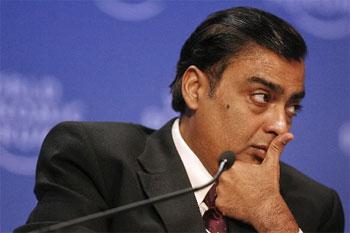 Mukesh Ambani, chairman and managing director (CMD) of Reliance Industries, kept his salary capped at Rs 15 crore (Rs 150 million) for the seventh year in a row. Remuneration of other directors decreased by one per cent.
"The CMD's compensation has been set at Rs 15 crore against Rs 38.86 crore as approved, reflecting his desire to continue to set a personal example for moderation in managerial compensation levels," RIL said in its annual report for the year ended March.
Ambani voluntarily capped his compensation at Rs 15 crore in October 2009 amid a debate over right-sizing of chief executives' salaries. Though Ambani's salary remains unchanged, he is entitled to the handsome dividend payments for his shareholding in the company. Ambani also earned Rs 9.41 crore (Rs 94.1 million) as commission for the year 2014-15.
Ambani's wife, Nita, who joined the board as non-executive director in 2014-15, was paid Rs 84 lakh as remuneration.
The remuneration of executive director P M S Prasad also remained unchanged at Rs 6.03 crore (Rs 60.3 million).
Ambani cousins Nikhil R Meswani and Hital R Meswani got Rs 12.03 crore (Rs 120.3 million), marginally lower from their remuneration of Rs 12.12 crore (Rs 121.2 million) in 2013. Executive director Pawan Kumar would also get a slightly lower remuneration of Rs 2.41 crore (Rs 24.1 million), compared with Rs 2.49 crore a year ago.
Apart from Ambani, the RIL board has the Meswani brothers, Prasad, Kapil and company founder Dhirubhai Ambani's brother, Ramniklal H Ambani. Its independent directors are Dharam Vir Kapur, Dipak C Jain, Mansingh L Bhakta, Yogendra P Trivedi, Mahesh P Modi, Ashok Misra, Raghunath A Mashelkar and Adil Zainulbhai.
RIL in its annual report said the total remuneration of key managerial personnel declined by 1.93 per cent from Rs 74.72 crore (Rs 747.2 million) in 2013-14 to Rs 73.28 crore (Rs 732.8 million) in 2014-15 whereas the profit before tax increased by 5.9 per cent to Rs 29,468 crore (Rs 294.68 billion) in 2014-15 (Rs 27,818 crore in 2013-14).