In a bid to make the megapolis more tourist-friendly, the Maharashtra Tourism Development Corporation (MTDC) will soon embark on inculcating soft skills to taxi drivers, a top official said.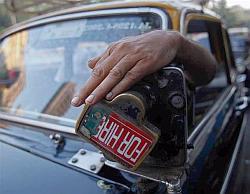 "We will instil soft skills and knowledge about the tourist attractions to taxi drivers in Mumbai and Thane to make it easier for tourists," MTDC chairman Jagdish Patil said during an interaction at the Press Club in Mumbai last evening.

He said a detailed module is being prepared to be on what should be taught to the drivers of the ubiquitous black and yellow cabs, which have dominated the cityscape for long.

The focus will largely be on deploying audio visual tools to make the drivers sensitive, Patil said, adding cleanliness and hygiene will also be included in the training.

The courses will take place in two time slots of three hours, one each in morning and evening, to make it convenient for the drivers to attend the classes, he said, adding help is also being sought from the Transport Commissioner.

He, however, did not give any time line for the courses or the target for the number of drivers to be
trained.
According to reports, there are around 55,000 taxis in the city.
The MTDC is also mulling to rope in the over three 300,000 graduates across the state to help tourism, Patil said.
Under the scheme, titled Tourism Clubs, a college will "adopt" a nearby tourist destination and help tourism flourish at the place, he said.
Responsibilities for the college will include protecting the place, collating data and documentation about it, creating awareness among the locals about the destination, ensuring clean sanitation and hygiene at the spot, acting as guides if needed and ensuring safety of tourists, he said.
The scheme will soon kick-off with 28 colleges across Maharashtra 'adopting' an equal number of tourist-friendly spots, he said.
When asked about reasons as to why a specialised bus bought with central assistance to promote tourism in the coastal Konkan region has not been deployed, Patil said the MTDC is struggling to find operators to run it.
"We called for bids twice but did not get any response. We have now invited expressions of interest for the third time, if it fails this time, we will take over the operations ourselves. The asset will not lie idle," he added.