Apple CEO landed in Kanpur for IPL match as jet to Vizag was late; he also got to see Lucknow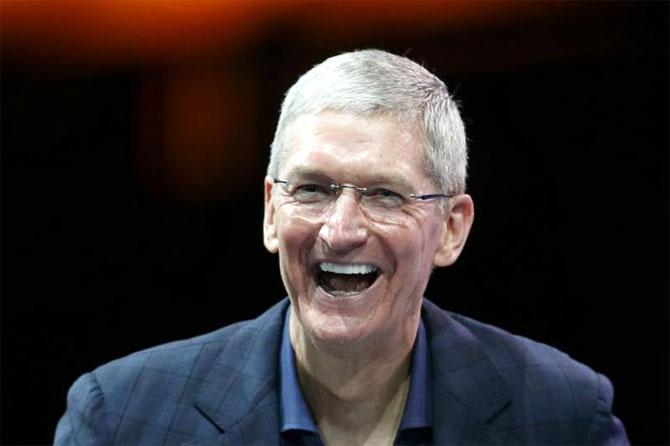 Apple chief executive officer Tim Cook's visit to India, mixing plenty of leisure with work, has set off comparisons with other tech giants.
Facebook founder Mark Zuckerberg's trips to the country in 2014 and 2015 lasted for about two days. Microsoft chief Satya Nadella will come at the end of this month only for a day, the same as the duration of his previous official visit in November 2015.
Google's Sundar Pichai was in the country for two days last year. Bill Gates' first visit as the CEO of Microsoft in 1997 was short - barely two days.
Apart from limiting the number of days in an official visit to two or three, CEOs of large multinational corporations have mostly stuck to business on such trips - meeting business and political leaders, interacting with students on college campuses, and doing big-ticket launches.
Perhaps, Amazon founder Jeff Bezos was a little out of the box as he went on a road show in a supply truck wearing a sherwani and waving a $2-billion note (that's the investment committed in the India market so far) in Bengaluru in September 2014.
Bezos also spent almost a week in the country. But while onlookers may wonder how Cook had the time to experience even cricket and Bollywood, travelling thousands of kilometres within the country, those in the know pointed out it was more about business than just fun for the American tech giant executives.
If Apple is to stay in India, surely cricket and Bollywood cannot be ignored, seems to have been the thought behind Cook's just-concluded visit.
"He came to India with a very serious road map. Bollywood and cricket were surely on his mind for future business prospects," said film-maker Mukesh Bhatt, who was one of the people to interact with Cook when he was in Mumbai.
He said Cook spoke to everyone on the sets of Raaz Reboot, a film produced by brothers Mahesh Bhatt and Mukesh Bhatt, with humility and like an ordinary man. "He was moved to see that Apple devices were being used in the shoot."
According to Bhatt, like Apple founder Steve Jobs, who had come to India in the mid-70s for inspiration, Cook too believes in experiencing and executing, and that his brush with Bollywood was like testing the waters for a serious business venture.
Was it all spontaneous or was it meticulously planned? It seems Mukesh Bhatt's son, Vishesh Bhatt, a film director who studied at New York University and has a thing for digital media, was instrumental in arranging Cook's Bollywood visit.
Similary, the Apple CEO's private jet did not suddenly turn towards Kanpur to take him to an Indian Premier League match at the Green Park stadium. In fact, it had been in the works for quite some time without the word getting out.
Cook's first choice was to watch an IPL match in either Mumbai or Pune, but that had to be altered as the court ordered a change of venue for the matches because of a drought in Maharashtra.
Rajeev Shukla, chairman, IPL, told Business Standard that the next choice was Visakhapatnam for Cook. That, too, had to be changed in a dramatic twist of events.
"I got a call from Cook when he was in Beijing, saying that he's unable to take off as Afghanistan chief executive Abdullah Abdullah's plane kept him waiting for more than two hours," Shukla said. The Afghanistan chief executive was in China to meet president Xi Jinping.
Then, the two (Cook and Shukla) decided on Kanpur, where the Apple CEO watched the first innings between Shah Rukh Khan's Kolkata Knight Riders and Gujarat Lions on May 19. Shukla described Cook as "a person with no airs", and said the Apple CEO was indeed exploring possibilities on tech partnership in the area of cricket.
The Apple CEO landed up at Shukla's suite in the upscale Landmark Towers. While Shah Rukh Khan, with whom he had spent time in Mumbai, wasn't there in Kanpur, film star Sanjay Dutt was among those to have met Cook. The Apple boss rested for a while in a room that was arranged for him in the same hotel before heading to the stadium, where he shot the match on his handset.
There were more turning points in Cook's India tour. The airforce station, which had shut down late in the evening, had to be opened for Cook to fly out.
Because of regulatory flying hour norms, it was decided that the Apple CEO would fly to Lucknow for the night. Sources said that even if the chief minister of Uttar Pradesh Akhilesh Yadav was keen on a meeting with Cook, there was no time.
After a night at Taj hotel in Lucknow, Cook flew to New Delhi on the morning of May 21, to keep his 11.15 am appointment with Prime Minister Narendra Modi.
As brand expert Samit Sinha, managing partner, Alchemist Brand Consulting, pointed out, while there may have been an effort at brand building by connecting with Bollywood and cricket personalities, an important part of Cook's agenda would have been to soak up the Indian experience in as immersive a manner as possible during his short visit.
Most of the things that he did in India "would have been ultimately dictated by the single-minded business agenda of making Apple significant in the world's second most populous country." It would be foolish to assume that any part of his visit was out of a suddenly blooming personal love affair with India, Sinha said.
Photograph: Reuters