More than 300 Chinese companies are expected to invest in India over the next three years as India-China bilateral trade grows to $100 billion, says an investment and business consultancy.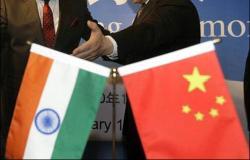 It also sees 50-60 Indian firms setting up operations in China in the coming years.
"As trade grows between the two countries, investment will follow," said Girija Pande, executive chairman of Apex Advisors Pte Ltd, a Singapore-based investment and business consultancy.
He projected 30 per cent increase in India-China trade over the next 2-3 years, from the $72 billion expected this year.
Addressing the inaugural Singapore-India Business Dialogue, Pande noted that Indian and Chinese government has expressed "strong interests" to promote bilateral investments.
The Chinese investments would mostly be in the manufacturing sector, given that some 70 companies have been already established in the Indian telecom and power generation sectors in recent years, said Pande, an Indian industry veteran who has spent over three decades working in senior positions with ANZ Banking Group and Tata Consultancy Services.
Pande said he also expects 50-60 Indian companies to set up operations in China, expanding from a network of 150 Indian companies' presence in China.
Indian and Chinese companies would use Singapore as investment springboard for working in each other's markets as well as Asia, offsetting the impact of slow down in the developed economies of the west, he said at the Dialogue, 'Leveraging on Untapped Opportunities and Growth', and organised by the Singapore Management University.
Singapore Deputy Prime Minister and Finance Minister, Tharman Shanmugaratnam also urged Singapore-based companies to participate in the ever-increasing investment opportunities in India.
In his keynote address to the Dialogue, Shanmugaratnam highlighted investment opportunities in India, such as logistics and supply chain managements which the Indians manufacturers would require to manage exports in the coming years.
Speakers at the event expected more Indian economic reforms in the coming years, allowing foreign investments and participation as was already announced by the government in the retail and other sectors.
Some 350 business leaders and academic attended the dialogue.