It is significant that the PM's appeal to invest in India comes at a time when the global economy is facing a difficult phase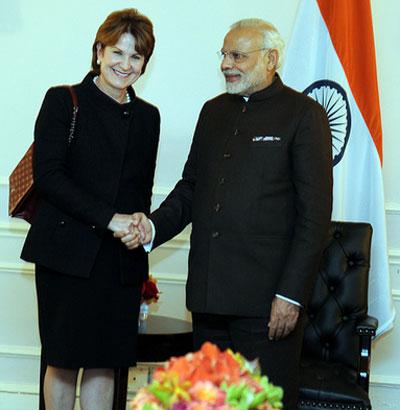 Prime Minister Modi and Marillyn A Hewson, chairwoman, president and CEO, Lockheed Martin. Photograph, courtesy: MEA/Flickr
Prime Minister Narendra Modi is in the US for an official visit, his second to that country within months. And, he seems to have made it clear this time that he means business. So far, he has sought to clear the air on his top priorities.
According to media report, Modi met chief executives of 47 Fortune 500 companies, media firms and key financial-sector players on Thursday, his first day in the US, and made a strong pitch for attract investments to India.
It is significant that the PM's appeal to invest in India comes at a time when the global economy is facing a difficult phase, with the looming threat of a crippling economic slowdown in China.
Here are six key takeaways so far from PM Modi's US visit:
Those he met

The PM met many top US business honchos — among chief executives from the financial world were JPMorgan's Jamie Dimon, Blackstone's Steve Schwarzman, Warburg Pincus' Charles Kaye, KKR's Henry Kravis, General Atlantic's Bill Ford, AIG Insurance's Peter Hancock, Tiger Global's Chase Coleman and NY State Common Retirement Fund's Vicki Fuller.

Modi later met US-India Business Council chair Ajay Banga, industrialist and former New York City mayor Michael Bloomberg, Lockheed Martin chief Marillyn A Hewson and Aecom chief executive Mike Burke.

At a meeting themed 'Media, Technology and Communications: Growth Story for India', top bosses of companies like News Corp, 21st Century Fox, Sony, Discovery, Time Warner, A&E and VICE Media met Modi. They represent 40 per cent of global industry in this space.
Prime Minister Modi with Ajay Banga, chairman of the US India Business Council and Member of the Advisory Committee for Trade Policy and Negotiations. Photograph, kind courtesy: MEA/Flickr
What he said

For Modi, the focus was attracting capital and investment. At his meeting with 47 CEOs of Fortune 500 companies, he assured continuity in economic reforms, while pitching for more foreign investments into India. He said prompt decision-making was a priority for his government.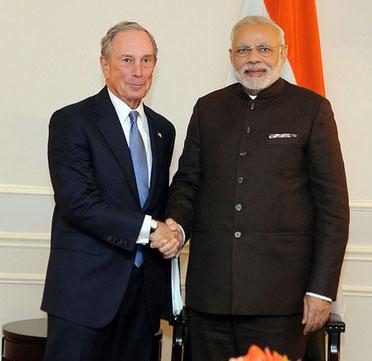 Prime Minister Modi shakes hand with Michael Bloomberg former Mayor of New York City and CEO of Bloomberg LP. Photograph, courtesy: MEA/Flickr
"Foreign direct investment has fallen all over the world. But in India, it has increased by 40 per cent. This shows confidence in the Indian economy. Governance reforms are my number-one priority. We are for simplified procedures, speedy decision-making, transparency and accountability," he was quoted as saying.
On Intellectual Property Rights

In his meeting with media CEOs, Modi discussed the contentious issue of intellectual property rights (IPR). This is an area where the US and India have not been on the same page.
Modi reportedly told the CEOs: "We are committed to protecting IPR; that is essential to fostering creativity…. This is a technology-driven era. We are a technology-driven society."
At his meeting with top financial-sector CEOs, he made the biggest pitch so far to lure US investments. He assured them that their concerns will be resolved and bottlenecks removed. He outlined efforts made during the past 15 months to increase investment in key areas like infrastructure.
MEA's word on Modi's US visit
According to Vikas Swarup, spokesperson in the ministry of external affairs (MEA), the prime minister said: "Any bottlenecks which should not be there will not be there."

He also revealed statistics about economic growth (7.3 per cent last year) and also cited the expectations of the World Bank and the International Monetary Fund (IMF) on the Indian economy. Terming start-ups a "personal sector", on the lines of private and public sectors, Modi outlined his vision for "Start-Up India, Stand-Up India".
What CEOs said
Kalpana Morparia, the India CEO of JPMorgan, said: "It was not a political discussion; it was about investing in India."
CEOs shared their concerns and experiences of doing business in India, according to a PTI report.
PM Narendra Modi 'best Indian leader since independence', says Rupert Murdoch. The CEOs – representing 40 per cent of the world's entertainment industry -- were enthusiastic about the digital transformation that is taking place in India through the 'Digital India' initiative.
Swarup is confident that investments will flow. Asked if the government had given any assurances on investments, Swarup said: "Yes, all of them."
"They talked about their figures. Somebody has a $5-billion investment, somebody $10 billion. They all, as I said, were very bullish on India, especially on the insurance sector, where cap (on foreign equity) has now gone up to 49 per cent… So, they were all fairly bullish on future prospects in India," Swarup was quoted as saying in an IANS report.
What the media tycoons said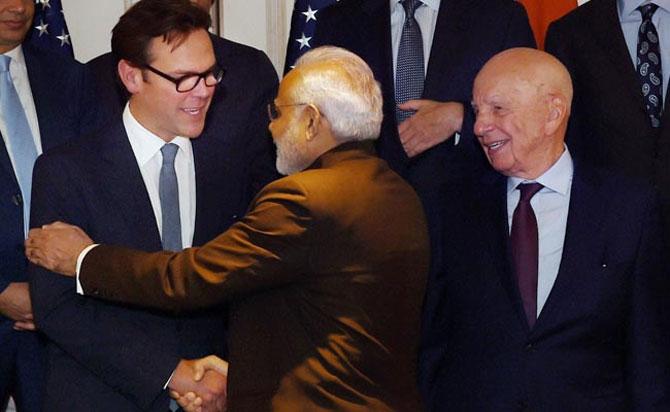 Rupert Murdoch, executive chairman of News Corp, had only praise for Modi.
Many Wall Street companies have evinced their interest in investing in Indian start-ups. According to a PMO release after Modi's meeting with financial-sector CEOs, "Many CEOs expressed keen interest in the Indian start-up sector, and showed willingness to invest in entrepreneurial ventures and innovative start-ups."