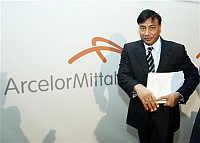 ArcelorMittal and the French government have struck a deal under which nationalisation of the Lakshmi Mittal-owned Florange steel plant has been ruled out in return of the company's commitment to make fresh investment of 180 million euros and not to lay off any worker.
Also, the company will not shut down two blast furnaces at the Florange facility which will retain about 650 workers whose jobs were under threat.
The world's largest steel maker, owned by the India-born tycoon, has 2,700 employees at the entire plant situated in the North-Eastern part of the country.
The deal was announced by French Prime Minister Jean-Marc Ayrault when the deadline for ArcelorMittal to find buyers for the two blast furnaces expired.
"The government decided against the idea of a temporary nationalisation that was floated in recent days...It ruled that option out given the commitments secured from ArcelorMittal," Ayrault said in a press conference.
He said the
company has pledged that its investment in Florange over the next five years would not mean it would reduce its financial commitment at other sites in France.
The fresh funds of 180 million euros ($233.6 million at Florange would reinforce cold-steel and packaging operations at the site. The steel giant employs about 20,000 people in France across multiple facilities. The French government and ArcelorMittal had locked horns for months over the fate of the Florange facility. The dispute escalated last week when the French government had threatened to nationalise the company's assets in the country.
Industry Minister Arnaud Montebourg had said that the multinational is no longer welcome in the country, as per media reports.
In a meeting earlier this week, French President Francois Hollande had told Mittal that the government would consider temporary nationalisation of the plant if the company didn't recall its decision to close the blast furnaces or refused to sell the facility to a competitor.