ArcelorMittal has got possession of land in Karnataka for its Rs 30,000-crore (Rs 300 billion) steel plant, six years after it announced grand India plans.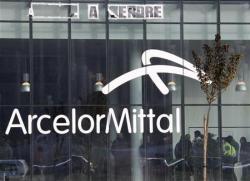 The company, which is promoted by India-born billionaire Lakshmi Mittal, had first announced its mega investment plans of $30 billion (Rs 1 lakh crore) for India in 2006 for setting up of two mega steel plants of 12 million tonnes (MT) capacity in Jharkhand and Odisha each.

Later, it shifted its focus to Karnataka and announced to set up a smaller plant of 6 MT a year capacity, as the projects in Jharkhand and Odisha were marred by various issues, including problems in land acquisition and regulatory delays.

"We have got legal possession of 2,600 acres land in Karnataka. We are working on getting all the statutory clearances for the project," ArcelorMittal India head Vijay Bhatnagar told reporters
on Wednesday on the sidelines of World Economic Forum India summit.
He added that work on the plant, which would also have a 750 MW captive power unit, would begin after ArcelorMittal obtains other regulatory clearances.
"Right now there is a ban on iron ore mining in Karnataka. We are working on it and are in continuous discussion with the state government. Work on the plant will start as soon as we get all the clearances," he said.
In May, ArcelorMittal chief Lakshmi Mittal had told company shareholders during the annual general meeting that India plans may not materialise for "5 to 10 years".
Currently the company has made some progress in Jharkhand, where it has been awarded coal and iron ore mines for the steel project but it has put the Odisha plans on backburner.
"We are also in talks with the Jharkhand government for land acquisition. We are Hopeful of all issues (in Jharkhand) being resolved soon," Bhatnagar said.