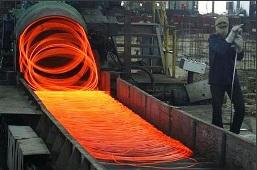 ArcelorMittal on Wednesday reported net loss of $709 million for the third quarter, impacted by slowdown in China.

It had posted $659 million profit during the third quarter last year.

The company had recorded profit of $959 million in the second quarter of 2012.

The sales during the July-September quarter stood at $19.72 billion as against $24.21 billion during the same period in 2011, according to a company statement.

The company said the global economy was impacted during the quarter due to slowdown in China.

"The already fragile global economy was further impacted in the third quarter of 2012
by the slowdown in China.
"This resulted in very challenging operating conditions for ArcelorMittal, which are expected to continue in the fourth quarter," said Lakshmi N Mittal, chairman and CEO of ArcelorMittal.
Against this backdrop, the company is focused on delivering its plan of asset optimisation, net debt reduction and productivity and efficiency improvements, he added.
"Net debt increased by $1.2 billion during 3Q 2012 to $23.2 billion, driven by negative operating cash flow (including a $0.3 billion investment in working capital) and negative foreign exchange impacts partially offset by proceeds from asset disposal and an issuance of perpetual securities," the statement said.