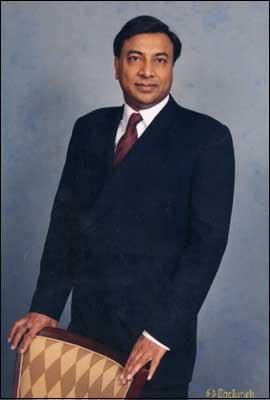 It's a neat three-in-one for steelmaker extraordinaire Lakshmi Mittal. In one fell swoop he has become the globe's biggest steelmaker -- an Andrew Carnegie for the 21st century. 
Simultaneously, he also becomes the richest man in Britain and the wealthiest Indian on the planet. His fortune is now reckoned to be worth around £12 billion ($22 billion). His immense wealth was boosted last week when he paid himself a gigantic $2 billion bonus. 
One year ago Business Standard predicted that it was only a matter of time before Mittal seized the crown and became the global King of Steel. We reckoned Mittal would climb to the top by March, soon after integrating state-owned steelmaker Polskie Huty Stali into his far-flung empire. 
In the event, Mittal's ascension to the No 1 top spot took a bit longer. But he accomplished it with breathtaking panache by pulling off a deal that puts him streets ahead of his competitors. He now makes 70 million tonnes of steel compared to Arcelor, the industry leader till this week, which makes about 44 million tonnes.  Always remember that India produces about 33 million tonnes of steel. Arcelor greeted Mittal's coup by saying it would help industry consolidation. 
Also read:
Lakshmi Mittal is Britain's richest man
Mittal Steel is world's largest
The world's most expensive house
A tale of two tycoons
It's no surprise that Mittal has sprinted ahead of his competitors. After all, he has been playing this game since the early 1990s when he bought a failing plant in Trinidad & Tobago. By contrast his imitators like Arcelor, US Steel and even his new partner Wilbur Ross of ISG realised the potential of the rust-ridden industry only three or four years ago. 
It was during the early 1990s that Mittal laid the foundations of his global empire. Most importantly, he elbowed out the competition and scooped up a state-run Mexican mill that had plunged into heavy losses in just a decade. The deal was an extremely favourable one for him and the plant was the group's moneyspinner throughout the decade. In 1995, he startled the steel industry by snapping up a decrepit plant in Karmet, Khazakhstan, which most global companies refused to touch with a bargepole. I
t was easy to understand why everyone else steered clear of the ailing Karmet plant.  Mittal ended up as the owner of the steel town's tram service and even the KGB office. Many concluded that Mittal had blundered. They didn't realise that Karmet was only a few hundred miles from the Chinese border and that China would in a few years be the world's powerhouse dictating the fortunes of the steel industry. 
But Mittal was still a long way from global dominance. By the turn of the century it was belt-tightening time at the LNM Group. Steel prices were falling and there was no sign of an industry turnaround. Mittal's efforts to jump on the hi-tech bandwagon by starting an online exchange for the steel industry wasn't a mouse-clicking hit and had to be shut down. 
Nevertheless, he didn't falter. In 2000, the LNM Group produced about 16 million tonnes of steel. During the next few years, Mittal turned his attention to the one-time Communist states of eastern and central Europe and began a spate of buyouts. 
Did Mittal simply buy anything that came on the market or did he work to a gameplan? Perhaps it was a bit of both. But the end result is that he's geographically well positioned.
The EU enlargement means that many of his mills in places like Poland, the Czech Republic and Romania will be able to sell at preferential rates to western Europe. He will, in fact, be able to sell about 15 million tonnes in the region by 2007.  Also, he's now in a strong position in North America with five plants in the US, one in Mexico, another in Canada and one in Trinidad & Tobago. Altogether, it's reckoned that Mittal now controls about one-tenth of the world's steel production. 
Nevertheless, there will still be a tough road ahead. Size isn't everything and there are new competitors who have suddenly decided that there's big money to be made in steel.  Then, there are competitors like Korean giant Pohang Steel, which has come roaring back after going bankrupt a few years ago.
Pohang has patented a process, which allows it to make steel cheaper than anyone else in the industry.  More importantly, when steel prices fall from their current highs Mittal could find himself in a tough spot once again.
The margins at some plants are still narrow and his listed company Ispat International performed poorly last year. This year, steel prices have soared and so have profits. Mittal must stay ahead when times once again get tough.
Text: Paran Balakrishnan 
Powered by