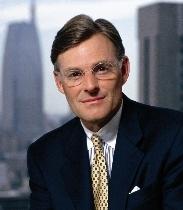 Harold "Terry" McGraw III, chairman, president and chief executive officer of The McGraw-Hill Companies, has been elected as the chairman of the US India Business Council.
McGraw would replace PepsiCo's Indra Nooyi during whose tenure USIBC, the largest among American corporate sector doing business in India, played a key role in strengthening of the relationship between the two countries. "India is a tremendous growth engine for the global economy, and a strong US-India partnership will continue to generate meaningful benefits for the citizens of both nations," McGraw said.
"Trade between the US and India has doubled in the last three years benefiting the economies of both our countries, and additional growth is possible. I look forward to working with business leaders and policymakers here and in India to strengthen relationships and establish partnerships that will help drive long-term growth and prosperity," he said in a statement.
As USIBC Chairman, McGraw said he would focus on four key areas that build on the strong foundation set by his predecessor: trade and job creation, infrastructure improvements, technology sharing, and inclusive economic growth for the two societies. "We see tremendous opportunities for companies in our two countries to collaborate, and we view President Obama's upcoming visit to India as a chance to move ahead on a vigorous trade agenda," he said.
"As US-India relations continue to grow and develop, USIBC is fortunate to have a leader of Terry's background, vision, and enthusiasm," Nooyi said. During Nooyi's tenure as chairman, the US-India Business Council has experienced unprecedented growth, driven by an enhanced commitment to membership service and the launch of new initiatives including the Green India Initiative, the Coalition for Healthy India and USIBC's Education Initiative.
"I want to thank Indra for her excellent leadership and commitment to USIBC during these past two years," McGraw said. "Her contributions to USIBC and to US-India relations have enhanced the cultural understanding between our countries and have set a very high standard for which she has all of our gratitude and respect," he added.