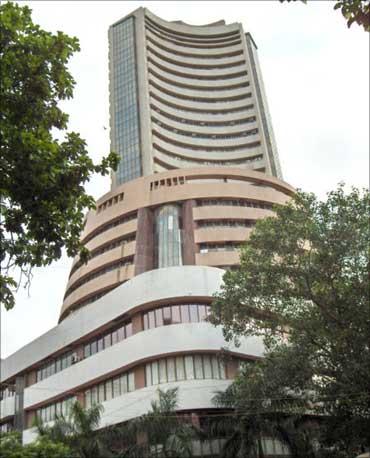 The second half of the Budget session of Parliament, which began on Monday, could turn out to be of little importance to the markets, claim analysts.
Since the Union Budget was presented on February 29, the markets have rallied nearly 13 per cent.
The rally has been led by a cut in key rates by the Reserve Bank of India and the forecast of a normal monsoon this year by India Meteorological Department and Skymet.
So how are markets likely to react to the developments?
G Chokkalingam, founder and managing director, Equinomics Research & Advisory, suggests that the Parliament session could turn out to be a non-event for the markets since the government does not have the requisite numbers in the Rajya Sabha to get key Bills, like the GST, passed.
"The markets are expecting smooth passage of the Finance Bill with all the required changes -- be it employees' provident fund-related, pictorial warnings on tobacco/cigarette packs or the jewellery sector, where the government had imposed an excise duty.
The markets will be eyeing the amendments, if any, related to these three issues.
The passage of Bankruptcy Bill is also something that the markets will be eying. I am very doubtful that there will be any meaningful business," said Tirthankar Patnaik, the India strategist at the Japan-based Mizuho Bank.
"I think the road ahead for the markets will be results-driven rather than anything else.
From a global standpoint, the upcoming monetary policy reviews by the US Federal Reserve and the Bank of Japan are likely to be non-events for the markets.
The quarterly results remain key, and I expect the Nifty to remain in a range of 7,700 to 8,000 in the short-term," he added.
Besides the stuck Goods and Services Tax Bill and the Insolvency and Bankruptcy Code, there are several key Bills pending for approval in the Lok Sabha that include Factories (Amendment) Bill, Companies (Amendment) Bill, Consumer Protection Bill; and Mines and Minerals (Development and Regulation) Amendment Bill, Land Bill in the Rajya Sabha.
Despite the on-going state elections and their outcome, experts say the results alone cannot meaningfully change the government's ability to push through reforms.
Over the rest of this year, only six seats from these states are up for re-election in the Rajya Sabha, where the government aims to increase its influence.
"Over the rest of 2016, significantly, 56 out of 245 members will be up for re-election.
"This is important because the BJP (Bharatiya Janata Party) lacks a majority in the upper House.
"A change in the balance of power could help the BJP push through long-delayed pieces of legislation, such as Goods and Services Tax Bill, that are regarded as important parts of the reform process," said Pranjul Bhandari, chief India economist, HSBC, in a recent report.