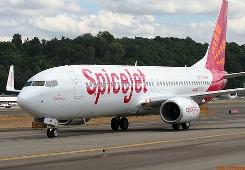 SpiceJet promoter Kalanidhi Maran may take even more stake in the company, if flights between tier-2 cities such as Bhopal, Indore, Lucknow and Jaipur turn viable for the low-cost carrier.

The company's shareholders recently okayed a move to raise Maran's stake from 38 per cent to 43 per cent.

"If our endeavours like Bhopal-Hyderabad remain successful, he may pick up more," said Samyukt Shridharan, chief commercial officer.

"We are planning to invest $ 150 million (Rs 740 crore) within a year on our new short routes," he told Business Standard in Bhopal on Tuesday.

He said so after launching the Bhopal-Hyderabad service, available at a fare of Rs 1,499 (excluding meals).

The 2005-founded company, headquartered in Gurgaon, has already received delivery of five Q4100 jets. Another 10 would be added soon on a lease basis, with a ownership right option with the supplier company,
Bombardier.
"Q4100 are nextgen turboprop aircraft that can accommodate 78 passengers. We will expand our services not only in tier-2 towns but tier-3 towns, too. We will be looking at connecting important destinations like Indore to Bhopal, Jaipur, Kanpur and Chennai, Aurangabad, Ahmedabad and Nagpur.
The Bhopal-Jabalpur and Bhopal-Gwalior services will come soon on our short-haul routes," he said.
"Destinations like (Maharashtra's) Aurangabad have a potential for us, as a lot of devotees visit Shirdi."
Adding: "Our aircraft remain parked after 10 pm till morning. We want to use those for new international destinations. Also, by next month, we might have our base at Ahmedabad."
At present, the company has chosen Hyderabad as base for the Q4-100 aircraft operations.
The Bhopal-Inore-Hyderabad flight will take two hours and would play thrice a week.
It has also announced a Bhopal-Indore operation at Rs 999. It will start a Bhopal-Indore-Delhi flight from next month.