Rest of India are all set to win the Irani Cup for a sixth consecutive time after setting Rajasthan an impossible target of 618 to win on Tuesday, the penultimate day of the match, at the Sawai Man Singh stadium in Jaipur.
The match, as a contest, was over once Rajasthan were all out for 400, ensuring Rest a huge 263-run first innings, on a day when a few records tumbled.
Left-arm spinner Pragyan Ojha sent a timely reminder to the selectors with a haul of five wickets in the innings.
Rest of India skipper Parthiv Patel did not enforce the follow-on and allowed his batsmen to have a go at the hapless Rajasthan attack. Shikhar Dhawan (155) and Abhinav Mukund (154) went hammer and tongs at the below par attack, smashing 310 runs in only 45.1 overs, before the innings was declared at 354 for 2.
Rajasthan were 28 for no loss when stumps were drawn.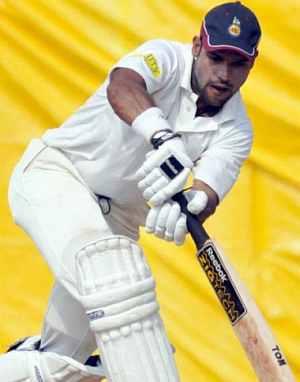 It was pure entertainment for the small crowd as Dhawan and Mukund carted the Rajasthan bowlers with utter disdain.
Dhawan finally holed out, having scored his runs off only 126 balls, inclusive of 22 fours and three sixes. In the process, the Delhi lad became the first batsman in the history of the Irani Cup to score a century in both innings.
The performance certainly put Dhawan back into national reckoning.
Mukund, who was scratchy in the first essay, also got much-needed confidence with a three-figure mark, although it counts for little in the context of the match.
The Tamil Nadu southpaw also became the first player in the history of tournament to score hat-trick of centuries, having reached three-fugure mark against Mumbai in the 2009-10 and 2010-11 season.
His 154 came off 159 balls, and included 19 boundaries and two sixes.
The 310-run partnership was the second instance when the Rest openers got past the 300-run mark. The last was back in 1990, when Ravi Shastri and Praveen Amre put together 327 runs against Bengal.
After reaching their individual milestones, the duo matched each other stroke for stroke as the ball repeatedly sailed into the stands.
Earlier in the day, it was Ojha who executed his plans to perfection, dismissing Ashok Menaria. Knowing about the southpaw's penchant to go for lofted hits, Mukund was pushed back to long-on, where the former India colts skipper holed out.
Menaria's dismissal took the stuffing out of Rajasthan's resistance, as Ojha duly got his 13th five-wicket haul, also claiming the wickets of Deepak Chahar and Sumit Mathur.
Scorecard
Rest of India (1st innings): 663 all out
Rajasthan (1st innings): (overnight 307/6)
A Chopra c Yadav b Ojha 20
V Saxena c Patel b Yadav 11
H Kanitkar c Patel b Yadav 14
R Bist c Patel b Ojha 93
R Parida c Pandey b Kumar 85
A Menaria c Mukund b Ojha 79
R Jhalani b V Kumar 1
D Chahar lbw b Ojha 17
M Khatri lbw b V Kumar 31
S Mathur c Dhawan b Ojha 21
A Choudhary not  out 0.
Extras (b-3, lb-13, w-6, nb-6) 28
Total (All out in 134.3 overs) 400
Fall of wickets: 1-25, 2-44, 3-53, 4-211, 5-278, 6-289, 7-341, 8-348, 9-398
Bowling: R Vinay Kumar 33-6-74-3, U Yadav   26-5-81-2, V Aaron 26-4-73-0, P Ojha 27.3-8-86-5, R Sharma 21-2-65-0, A Mukund 1-0-5-0.
Rest of India (2nd innings):
A Mukund c Choudhary b Menaria 154
S Dhawan c Khatri b Mathur 155
A Rahane not out 13
M Pandey not out 19
Extras (b-5, lb-2, w-4, nb-2) 13
Total (For two wkts decl; 54 overs) 354
Fall of wickets: 1-310, 2-328
Bowling: Chahar 11-0-67-0, Choudhary 9-1-42-0, Mathur 11-0-60-1, Khatri 12-0-98-0, Bist 7-0-65-0, Menaria 4-0-15-1.
Rajasthan (2nd Innings): (Target 618)
A Chopra batting 19
V Saxena batting 3
Extras (b-4, lb-1, w-1) 6
Total (For no wicket; 7 overs) 28
Bowling: R Vinay Kumar 4-1-6-0, Aaron 2-1-5-0, Ojha 1-0-12-0.