The problem in India, is not unemployment because people need to work to feed themselves, but widespread under-employment.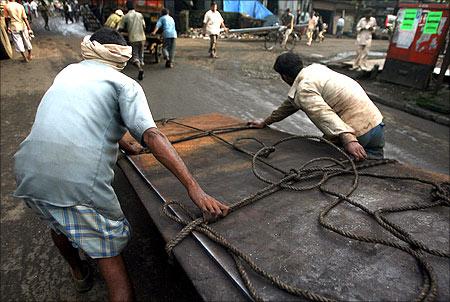 Image: Workers pull a cart laden with metal sheets at an industrial area in Mumbai. Photograph: Arko Datta/Reuters
As I walk into a members' club for lunch at The Oberoi in New Delhi, I can't help noticing the book-lined walls.
The setting is reminiscent of my last meeting with Manish Sabharwal, which was over breakfast at a table heaped with mangoes and delicious oatmeal uttapam set up just off the beautiful library in his Bengaluru home.
The difference is the books in Sabharwal's apartment appeared to have actually been read while the ones in The Oberoi seem the kind used for hotel décor.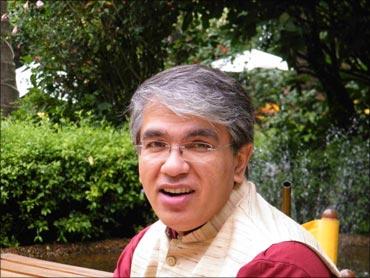 Sabharwal (see left) soon bustles in and almost immediately we are discussing a book he has read by Lawrence Freedman, a history of strategy in business and politics.
Sabharwal is chairman of TeamLease, which has helped hire 1.4 million sales and customer service reps and logistics employees such as couriers for companies across India since it was founded in 2002.
He is making the larger point that as a matter of political strategy if "jobs were put at the heart of Indian policy-making, you would create a narrative" that could transform the country.
Conversations with Sabharwal are a form of intellectual gymnastics in which I have become reconciled to feeling both exhilarated and slow-footed.
Books are always a centrepiece; he quotes freely and at gunfire-speed from tomes on history and political biographies to buttress his points about the kind of business-friendly government India should have. In the first few minutes of my breakfast with him in Bengaluru, he had catapulted from a comment by Margaret Thatcher — "Your brain is not connected to your backbone", which she told her cabinet colleagues to reinforce that politics was about courage rather than intelligence — to his criticism of the media and the Central Bureau of Intelligence in India for often confusing incompetence and fraud.
At lunch in New Delhi, scarcely have we dispensed with Freedman on strategy than we are on to Ezra Vogel's biography of Deng Xiaoping. The book is less critical of Deng's role in the Tiananmen Square massacre than Vogel should be.
However, the book is superb on how Deng marshalled support within the party for economic reforms and laid out a strategy of experimenting with free enterprise from its southern tip — among other things by dispatching Xi Zhongxun, the father of China's current president, to Guangdong to make a successful start in that most entrepreneurial of Chinese provinces.
"Our democracy alibi (for not boldly pursuing economic reforms) is such nonsense," Sabharwal, a youthful 46 despite his grey hair, says with feeling, pointing out that Deng's son was thrown out of a window during the infighting of the Cultural Revolution.
As the menus arrive, he has somersaulted to Apple's recent announcement that its iPhone sales in China had surpassed those in the US.
The milestone in late April barely merited comment in India's media, but Sabharwal terms it "truly a Henry Ford moment: In one generation, they (the Chinese) have gone from makers (of iPhones) to buyers".
"From the mega factories of Foxconn that employ in total about a million workers making iPhones in China, it is a comparatively gentle jump to his observation that our labour laws and sclerotic regulations have made us "a bunch of corporate dwarfs. Only 14,500 companies have a paid up capital of Rs 10 crore".
The biggest problem is that our unorganised sector creates most of our jobs and that the "productivity difference between large corporations and small firms is 22 times".
The problem in India, he says, is not unemployment because people need to work to feed themselves, but widespread under-employment.
Despite a clear-eyed view of India's problems, Sabharwal remains fundamentally an optimist. He believes the Narendra Modi-led government has made an impressive start by simultaneously focusing on urbanisation, ease of doing business, skills and labour reforms.
"You need to think that everything is interrelated rather than one leg of an elephant," he says.
India has 50 cities each with a population of one million or more while China has more than 300, he points out.
A member of Rajasthan Chief Minister Vasundhara Raje's advisory panel, which was notably the first state government to reform its labour laws, he argues that the Modi-led government has undertaken more labour reforms in the past year than India has seen in the past 20.
That baton has passed from Rajasthan to Madhya Pradesh to Maharashtra.
Sabharwal underlines that an under-appreciated aspect of the past 18 months is how decision-making is now being delegated to the states.
By contrast, Indira Gandhi had said in as many as 15 speeches that strong states lead to a weak nation, he observes, "Decentralisation and competitive federalism is a very big idea."
I agree with much of what he says, ranging from his comically unflattering assessment of the boarding school we went to a few years apart to his thoughtful eulogies of Jawaharlal Nehru.
Yet, I wonder if the ongoing labour reforms are a case of too timid, too late when the world is creating fewer factory jobs than ever and even Bangladesh has stolen a march on us in making garments. "We could still go from manufacturing being 11 per cent of GDP to 20 per cent of GDP," he insists.
"We need a more adventurous state. We need more risk-taking in policy-making."
Then, in a series of leaps, Sabharwal moves from the sensible suggestion that we need to reinvent the Pay Commission for civil servants into something that is bold enough to link salaries to performance to the complete waste of time and manpower that the hand-baggage tag stamping in airports is.
Improbably, he has even calculated that this only-in-India airport "innovation" costs the country Rs 1,200 crore or Rs 12 billion in wasted time, labour, ink and paper.
I am trying to eat a perfectly grilled sole while digesting this information so I neglect to ask for the numbers behind this incredible factoid. In any case, he is off critiquing the fact that India's land records often bear no relation to land titles, and then segues to a bold prediction that the "real estate industry is in for a long cold winter".
In a startling assessment that sounds right, Sabharwal points out that one under-appreciated factor in Bengaluru's success with start-ups and tech companies is that it is full of mixed use residential enclaves with low rents, compared to the stratospheric rental costs of New Delhi and Mumbai. "Commercial rents in Bengaluru have been flat for 15 years," he says.
Sabharwal's visit to Delhi was for a steering committee meeting of the Ministry of Skill Development and he is on a tight schedule.
He has been a member of the National Skill Development Mission, chaired by the prime minister, in its current and previous avatar since 2008. No sooner is his mixed grill of burra kebabs and chicken tikka and my fish eaten than it is time for him to leave.
I slip in a question about whether this government in particular needs more technocrats, hoping to determine whether Sabharwal fancies working in government.
"Technocrats make bad reformers. Most technocrats assume (a state of) artificial intelligence," he says a little glibly.
"Dealing with winners and losers is the business of politicians."
Perhaps, but the chorus grows louder that the current government needs to induct non-political experts not only to chart economic policy, but also for urgent national projects such as apprenticeship training and education — just as its predecessor did when it put Nandan Nilekani in charge of Aadhaar.
But Sabharwal needs to leave and I never get to asking him whether it is a lack of backbone or brains that prevents the government from doing so.
Image: Manish Sabharwal, the chief executive officer of TeamLease; Photograph: Shobha Warrier/Rediff.com