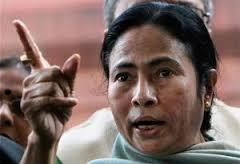 The first big task in hand at the new address is a success.

Sitting in the plush office at the 14th floor of the newly-inaugurated secretariat, by default facing one of the infrastructure marvels created in the predecessor regime, the Vivekananda Setu, Chief Minister Mamata Banerjee has finally reined in the intractable potato prices.

On Tuesday, when some cold-store owners urged the chief minister to lift the ban on potato export to neighbouring states, in a headmistress-like tone she instructed them to empty all the cold storages by December 15.

Never before had the state given such a diktat.

Cold storages in West Bengal generally close by the last week of December, when farm potatoes take charge of the market supply. Between March and December, stored potatoes feed the markets.

West Bengal produces about 10 million tonnes of potatoes every year. Of this, only 5.5 million tonnes are domestically consumed.

At present, close to 1.4 million tonnes of potatoes and potato seeds are in cold storage.

In the next two months, the total consumption of both would not be more than 1.2 million tonnes.

Possibly, by December, nearly 0.2 million tonnes have to be dumped in open fields, which otherwise would have been exported to Odisha, Andhra Pradesh, Bihar and Jharkhand, according to Patit Paban De, member, West Bengal Cold Storage Association.

"Medinipur, Bankura and Burdwan are areas which generally export potatoes.

The existing chain of marketing infrastructure do not provide for the same potatoes to be transported to local areas," said a trader.

Steps taken by West Bengal to reduce prices include direct procurement and sale at Rs 13 a kg, ban on exports and the deadline to vacate cold storages.

The result: prices of potato in the open market are now Rs 15-20 a kg in West Bengal from nearly Rs 40 a kg sometime earlier.

In neighbouring states, prices have shot up to as high as Rs 50 a kg. A section of traders in Odisha had tried to stop truckloads of fish, eggs and onions coming to Bengal.

In September, farmers in Bengal had sold potato at Rs 4 a kg, a loss of Rs 1 a kg.

After floods and rain in October, potato prices started moving up.

Possibly, with large quantities of vegetables getting destroyed during floods in Bengal, consumption of potato went up significantly, causing a sudden rise in prices, according to Pranab Chatterjee, professor at Bidhan Chandra Krishi Viswavidyalaya.

Potato cultivation is a risky bet for farmers. Suicides and distress sale are nothing new in the growing season.

The cause of the problem is poor infrastructure and poor marketing. With 10 million tonne of production, the storage capacity in West Bengal is only close to five million tonne.

While a handful of rich farmers in the districts of Paschim Medinipur, Bardhaman and Hooghly can afford to pay for transportation and rent of cold storages, a large number of farmers depend on middlemen to sell their produce.

With the cost of production at Rs 5 a kg, the rent for keeping a kg of potato in cold storage is nearly a third of the total cost at Rs 2 a kg.

Once the potatoes are sold to middlemen, it is a sophisticated trade of potato bonds. Potato bonds are simply paper slips marking the potatoes in the storages.

These bonds change multiple hands, often sold at a premium.

Thus, potato bonds sold at Rs 120-200 per 50 kg, normally at this time, are now selling at Rs 400-500, according to Chatterjee.

"The problem is we do not have any agency to procure potatoes, neither any maximum support price for potato procurement.

"Even with potato prices so high, farmers sold the crop at a loss," according to Ramprasad Ghosal, a farmer in Hooghly.
Image: Mamata Banerjee