Mallya's Rajya Sabha declaration lists investments in racing, finance and investment firms.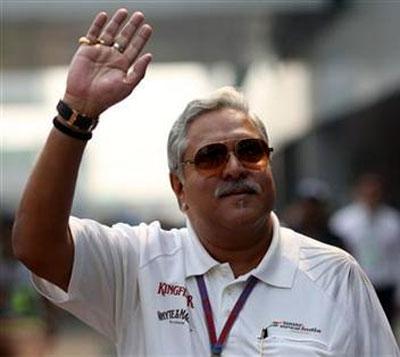 Rajya Sabha member and UB Group chairman Vijay Mallya had declared six private companies in his last asset declaration in 2014.

He holds between 25 per cent and 100 per cent in these companies and these holdings are listed under the head shareholding of 'controlling nature'.

Mallya is a director on two of these companies. While three of these companies are based in Bengaluru, two are registered in Chennai and one in Mumbai.

Two of these firms have significant capital and run important businesses, while others are smaller vehicles with a few lakh rupees in capital.

One company had a significant exposure of Rs 25 crore Rs 25 million) to the troubled Kingfisher Airlines, documents reviewed by Business Standard showed.
These findings acquire significance in the light of recent developments around Mallya, who is facing legal proceedings for allegedly defaulting on loans of Rs 9,000 crore (Rs 90 billion).

A consortium of banks has moved court seeking seizure of his passport. However, as the Centre informed the Supreme Court on Wednesday, he had left the country, possibly for the UK.
Early on Friday, condemning what he termed 'media trial', Mallya had tweeted: "News reports that I must declare my assets. Does that mean that Banks did not know my assets or look at my Parliamentary disclosures?"
A Business Standard research brings out the details of some of Mallya's assets in the country.
United Racing & Bloodstock Breeders (URBB)
This is a company based in Bengaluru's Edward Road. While Mallya owns 98.89 per cent of the firm, the remaining is owned by Dr Hasneyn Mirza, a famous vet from the garden city.
Zeyn Mirza is the managing director of the firm.
As the name suggests, the company is into racing and breeding of thoroughbreds.
Its latest annual report describes its main activity as "Business of breeding and racing of horses and also to buy, maintain, board, train, sell and deal in race horses through stud farms, turf clubs and other agencies."
For the year ended March 2015, URBB made a net loss of Rs 28.4 lakh on a revenue of Rs 9.3 crore (Rs 93 million).
This was slightly better than the Rs 1.02 crore (Rs 10.2 million) loss booked in the previous year on a revenue of Rs 12 crore.
The famous Kunigal Stud Farm, which comes under this company, is described as follows: "Spanning an area of almost 500 acres, the Kunigal Stud Farm was, for many decades, used by the British Army to breed horses for their Cavalry Regiments using Arab stallions.
The takeover of Kunigal Stud by the Chairman of one of India's largest industrial groups - the UB Group - heralds the dawn of a new era of excellence."
The main assets were the race horses owned by the company, which were accounted under "other non-current assets".
Of the Rs 17-crore (Rs 170 million) assets are Broodmares worth Rs 9.08 crore (Rs 90.8 million), race horses worth Rs 5.5 crore (Rs 55 million) and stallions worth Rs 2.23 crore (Rs 22.3 million), with geldings and teasers accounting for the rest.
Foals and younger horses were classified as 'stock' and are valued between Rs 2 lakh and Rs 4 lakh, based on pedigree.

The closing stock for FY15 was Rs 2.8 crore (Rs 28 million) .
Total fixed assets, which included buildings on leasehold land, paddocks, stables and machinery were valued at Rs 3.4 crore (Rs 34 million).
VJM Investments Pvt Ltd
This is an investment company, registered with its address at UB Towers in Bengaluru. Mallya owns 100 per cent of this company, which has a paid-up capital of Rs 5 crore (Rs 50 million).
This company clocked a profit of Rs 2.87 lakh for FY14. It had accumulated profits of Rs 1.56 crore (Rs 15.6 million).
It also reported reserves and surplus of Rs 11.6 crore (Rs 116 million). The company had P A Murali and Anil Pisharody as directors, apart from Mallya.
The auditor of VJM had given a qualification of its FY14 accounts, which included a reference to Kingfisher Airlines.
"The company has significant financial exposure to Redect Consultancy Private Limited. These exposures are in the form of long-term advances to the tune of Rs 25.13 crore (Rs 251.3 million) and Redect Consultancy has in turn granted significant advances to Kingfisher Airlines. Having regard to the financial condition of Kingfisher Airlines since it has defaulted in honouring its financial obligations on several counts, the financial net worth being eroded, its operations being suspended, there is an indirect threat to the recoverability of the advance from Redect Consultancy. The management has not quantified and provided for the irrecoverable portion of the value of such advances. Had the company made such provisions, the profit disclosed in the Statement of Profit and Loss would have been lower by such amount and the amount of long-term advances would have been lower by that amount," the auditors had said. The company is yet to file its accounts for FY15.
Devi Investment Private Limited, registered in Mumbai, and Chennai-based Vittal Investment Pvt Ltd, which were also listed on the Rajya Sabha affidavit of Mallya, are subsidiaries of VJM investments.
Other subsidiaries of VJM included Swiftways Tours and Travels and Force India Formula One Academy Ltd.
Cineblitz Productions and Ganapathy Mallya Investment Pvt Ltd are the other firms listed in Mallya's affidavits.

He held 99.7 per cent in Cineblitz, which was into film production and had a capital of Rs 1 lakh and 100 per cent of Ganapathy Mallya Investment, was an investment company with a paid-up capital of Rs 4.23 lakh.