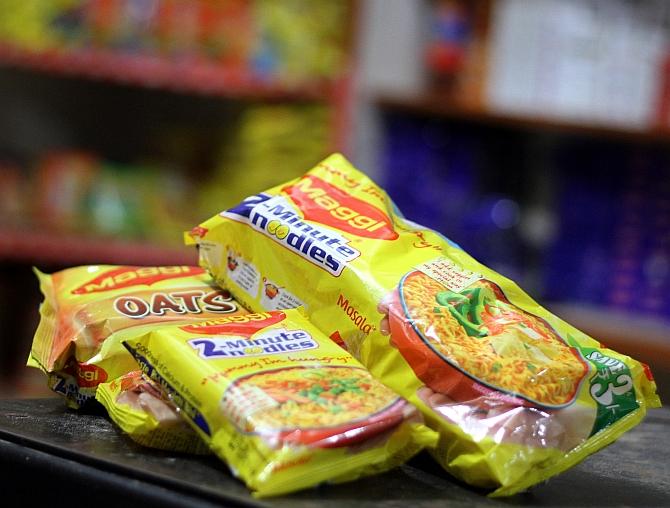 The company has redeployed employees involved in manufacturing of the instant noodles for other operations.
Nestle India employees, who have been hit hard by a recent ban on Maggi noodles, have something to cheer at last.
The ban will not lead to pink slips and every single permanent employee of the company will retain his/her job, Nestle India's newly appointed managing director Suresh Narayanan has said.
The Indian operation of the Swiss food group employs more than 5,000.
The company has redeployed employees involved in manufacturing of the instant noodles for other operations.
The lone incident which rocked the packaged food industry of India in recent past is the ban of Nestle's Maggi noodles by Food Safety and Standards Authority of India.
Nestle India had to recall Maggi worth Rs 320 crore (Rs 3.2 billion) after it was termed 'unsafe' by the food regulator because of presence of lead and taste enhancer monosodium glutamate beyond permissible limits.
Bombay High Court refused to grant relief to Nestle India by rejecting its plea for stay of the impugned orders of the food regulator.
Nestle India coughed up a whopping Rs 20 crore (Rs 200 million) to Ambuja Cements for destroying the recalled packets.
According to reports, at least 10,000 vehicles were used to bring the Maggi packets to 38 warehouses from 3.5 million outlets across the country.
Ambuja Cements burnt the Maggi noodles at its cement plant in Chandrapur in Maharashtra.
Nestle India, however, got some reprieve when the court allowed it to export Maggi noodles.
Interestingly, amid this controversy, seven foreign countries, including UK and Canada, gave a clean chit to Nestle for Maggi manufactured in India saying levels of lead in the product are well within the EU permissible levels.
As a direct consequence of the Maggi ban, Nestle India reported a standalone loss of Rs 64.40 crore (Rs 644 million) for the quarter ended on June 30, 2015 -- its first quarterly loss in over three decades.
It had posted a net profit of Rs 287.86 crore (Rs 2.87 billion) during the April-June quarter of financial year 2014-15.
The new managing director on Monday expressed optimism to find a way to resolve the Maggi issue.
Nestle India recalled its previous managing director Etienne Benet on July 24 and replaced him with Narayanan, who was heading the company's operations in Philippines.