Aditya Kumar, 30, son of Suresh Kumar, who quit the administration on the same day as his dad, was a senior White House official who probably was the longest-serving Indian American in the administration, but flew under the radar during his entire tenure, and had some exposure only recently when the White House released presidential aides' discussions about the controversial Solyandra loan guarantee to US lawmakers to defuse a subpoena fight with Congress.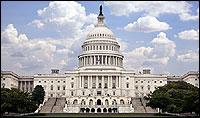 Solyandra is the now bankrupt solar firm which was provided a $535 million loan by the US Department of Energy and has now become political fodder for the Republicans to attack the Obama administration as yet another example of obscene waste of US taxpayer money.
One of the e-mails obtained by the Daily Beast, authored by Kumar, said that then Chief of Staff and now the Mayor of Chicago Rahm Emanuel, was the official who suggested the administration hold an even touting Solyandra in connection with loan approval.
Kumar, who was then the White House Director for Special Projects, working directly under Emanual, wrote, "POTUS's (President of the United States)involvement was Rahm's idea."
Reflecting about his more than five year stint with the Obama presidential campaign and then as a White House official, Kumar told rediff.com, "I've been interested in politics and public policy since high school, but I never thought I would get so involved, so early on in my career."
"Some people may find this strange, but one of my good friends at Stanford Business School worked for Karl Rove in the Bush White House.  His words of encouragement and his advice was one of the biggest reasons I joined the Obama campaign right after business school," he said.
Kumar, who was Deputy Assistant to the Vice President and Senior Advisor to the chief of Staff, at the time of his resignation last week, said, "  Like most people, I was introduced to Senator Obama by his convention speech in 2004.  By the end of 2006, I found myself hoping he would announce his run for the presidency, which he ended up doing a few months later in February, 2007."
Almost immediately, he said, "I started volunteering on the Obama campaign when I was a second year MBA student at Stanford Business School.  I flew out to Chicago on my spring break, and then continued to help from California as I finished school.  As you can imagine, on my initial trip to Chicago, only a few dozen people had started working on the campaign."
"Right after graduating, in June 2007, I packed up my Honda Civic and drove from California to Chicago.  I didn't have a job, or a job offer, but I wanted to see what I could do to help.
Kumar recalled, "I was hired in July 2007 as the Director of Financial Strategy, and also to oversee the campaign's travel operations and in his capacity I worked the with campaign leadership, including David Plouffe, our campaign manager to build various scenario based models to plan how we would move, money, people, and other assets from state to state based on win-loss outcomes and potential fundraising scenarios." 
"In early 2008, I was promoted to be the Deputy Chief Financial Officer and in  this capacity I built the campaign's nearly $1 billion budget, and continued directing the campaign's financial strategy and recruited a 20 person team from the private sector  from top management consulting firms, investment banks, and accounting firms to manage the budget."
Kumar said, " I created and executed financial strategy for the first presidential campaign without public funds and the largest campaign budget in modern history."
He said, "Shortly, after the election on November 4, 2008, I joined the Transition to build the White House budget and staffing plan, working for Jim Messina --Rahm's Deputy Chief of Staff in the White House, and today the Campaign Manager of the Re-election campaign.   In January, I was offered a job in the White House, working for Rahm, Jim, and Pete Rouse --a senior advisor to the President."
"Shortly after the President's Inaugural Address on January 20th, I boarded a bus at the Capitol with a skeletal first day White House staff, and rode to 1600 Pennsylvania Avenue.  Our bus rode with police escort along the streets that had been cleared for the parade that was to follow, and had signs reading 'White House' on the outside," Kumar said and added: "Needless to say, there were a lot of cheering and waving onlookers.  The experience was pretty surreal.  When we got to the White House and exited the bus, the secret service agent out front asked us 'are you the new guys'?  That began my first day of work for the Obama Administration."
Kumar said "For the first year and a half or so, I worked in the Chief of Staff's Office for Rahm, Jim and Pete on a variety of policy issues, including  most things homeland security related  and Health IT / VA issues, and a variety of critical response operational issues. However, six months or so in, I started working more and more closely with the Vice President, on the implementation of the Recovery Act--which was the $800 billion stimulus bill that we passed in February of 2009."
 "I have traveled with the Vice President not only across America, but also across an ocean --to South Africa-- and he is one of the smartest, most impressive, dedicated, and caring individuals I have worked for.  Too often, it can become easy to get lost in Ivory Tower discussions about the theoretical, the ideal, or the macro picture.  But more than anyone else, the Vice President will never let us forget who we're working for and who we're fighting for-- the middle class and those who are struggling in America."
Kumar said, "Whether it's working on renewable energy policy, job training policy, or infrastructure policy, the Vice President will always be certain to ask the right questions about how what we are doing will be affecting the everyday lives of Americans trying to make ends meet all around this country."
"As I told my colleagues before leaving, the experience of working for this President and Vice President, and with all of the talented, dedicated, on the campaign and in the administration has been the most professional rewarding experience of my life," he said, and argued, "We have already accomplished a great deal, and despite what some have seen as the unproductive last year, I feel like we're just at the beginning stages of accomplishing a whole lot more."
Kumar, explaining the reasons for leaving the White House said, "With nearly five incredibly grueling years under my belt on the inside of the Obama-Biden world however, I felt like it was time for me to step aside."
He said, "First, I have probably slept less on average over the last five years, than I have in any other single year of my life.  I'm looking forward to spending the next few months getting back to a slightly more normal routine.  But also, I feel like there is a very hard fight to be fought advancing the President's and Vice President's agenda outside of the administration, and I look forward to being a soldier in the effort while re-engaging with my love for business as well."
Kumar said, "After taking a few months to decompress, and to focus on a few personal areas of interest --in the education and the mortgage space-- I will be re-joining McKinsey & Company, a firm that I worked at prior to business school, and a firm that I love."