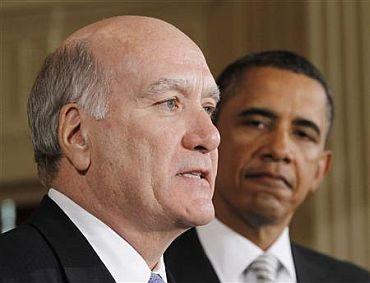 White House chief of staff William Daley has resigned and will be replaced by President Barack Obama's budget chief Jacob Lew, senior administration officials have said.

Obama is expected to make an announcement in this regard shortly.

Daley is now returning to Chicago, his home town.

"Daley gave his letter of resignation to the president in a private meeting in the Oval Office last week, recounting the administration's successes of his one year on the job and saying it was time for him to return to his hometown of Chicago," said The Chicago Tribune, which was the first one to break the news.

Also Read: The other Michelle Obama in the White House

Chicago is also the home town of Obama, whose first Chief of Staff, Rahm Emanuel, was also from Chicago. Emanuel is now the Mayor of Chicago.

Daley would formally leave the White House towards the end of the month, after Obama delivers his State of the Union Address on January 24.