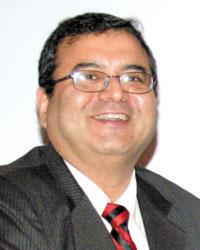 What do Montek Singh Ahluwalia, Aruna Roy, C Rangarajan, Sam Pitroda, Mani Shankar Aiyar and Vijay Kelkar have in common?
They may all be offering conflicting advice to Sonia Gandhi and Manmohan Singh, but they are all happy to get photographed with Sameer Kochhar, accepting awards and honours from him.
Who is Sameer Kochhar? A 'self-taught sociologist-economist', as he himself claims, with formal education up to Class 12 and a diploma and graduation from an open university.
"A practitioner of poverty for the first 18 years of life", he says he had the experience of a year at a Taj hotel, few more years were spent exporting garments and footwear from Bangkok to West Asia and 13 years at Pertech Computers Ltd, a garage start-up.
Cut to the 21st Century, Kochhar is organising conferences, sponsored by public sector enterprises, with ministers, advisors and secretaries to the government speaking, and an audience happy to meet these movers and shakers, sometimes for a fee.
Kochhar sits bang in the middle of full-page advertisements with the who's who of New Delhi's economic policy establishment, after having given them awards or getting books released in their honour.
Skoch events are organised with pomp and show in the swanky hotels of Delhi and Mumbai every year.
Kochhar says Skoch Challenger Lifetime Achievement Award is the most prestigious award of the group.
The award has been conferred to: Montek Singh Ahluwalia (2011), Vijay Kelkar (2010), Sam Pitroda (2009), Aruna Roy on Behalf of Mazdoor Kisaan Shakti Sangathan (2008), C Rangarajan (2007) and C B Bhave (2006).
The little known Skoch Group, single-handedly managed by Kochhar, has attracted Union ministers, including P Chidambaram, S Jaipal Reddy and Mani Shankar Aiyar, secretaries to the Government of India and other senior government officials and policymakers.
The group has three entities - Skoch Consultancy Services Pvt Ltd, Skoch Media Pvt Ltd and Skoch Development Foundation.
Skoch Consultancy Services has been in business since 1997. Consultancy, conferences and content production are the major revenue streams for the company.
Kochhar says: "In the ballpark, our group turnover last year was less than Rs. 6 crore and our profit after tax was less that one crore."
Skoch Media has been publishing Inclusion Magazine since March 2008. The revenue stream for the publication
is advertising.
Skoch Development Foundation is a not-for-profit think tank established in March 2008 to promote digital, social and financial inclusion.
Kochhar has his own explanation for why it is important for government functionaries to get associated with Skoch's programmes.
"We have followed their work closely in the past and now they understand our work and have developed a relationship based on understanding and trust and the companies supporting us are the ones with whom we have worked in the past," he says.
Kochhar is expansive when he talks about his life journey and work.
This is part of the man's 'packaging' that seems to appeal to a range of policymakers.
Surprisingly, though, few who have been associated with Skoch or have participated in its events, know nothing about the group's finances and who foots the bill.
Kochhar says business is not the primary motive behind his work.
"If I would have worked with a company, I would have been kicked out for the kind of growth Skoch has seen in revenue since its inception," he says.
"We are not in the business of giving awards to senior government functionaries, or anyone else for that matter, as the Skoch branded awards (Financial Inclusion, Digital Inclusion and Challenger Awards) are not sponsored by anyone and we do not have any revenue streams against these.
"Our revenue streams from awards are limited to being a third party assessment agency in our areas of expertise for awards instituted by other organisations.
"Since inception, Skoch Challenger Awards have recognised people, projects and institutions that go the extra mile to promote India's inclusive growth.
"Given that this is a wide spectrum from panchayati raj to economics to financial services. There are instances of government functionaries, too, qualifying and accepting these".
So how has Kochhar developed this model?
In his words: "Skoch has been working on development and social issues almost since the inception. We have visited and documented hundreds of case studies across India over the years.
"Many of these have been published. Since most awards seem to give them a go by, we decided to institute the Skoch Challenger Award to focus on the softer issues that tend to get lost."
There is no doubt that Kochhar has learnt the art of attracting people to his conferences and awards, but his stress on the cause of financial inclusion appears to be an after-thought.