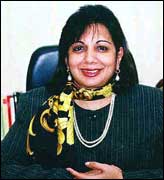 Kiran Mazumdar-Shaw, chairman and managing director of Biocon, Chanda Kochar, executive director of ICICI Bank and Vidya Chhabria, chairman of Jumbo Group have secured a place in Fortune's list of the world's 50 most powerful businesswomen.
Mazumdar-Shaw, worth about $440 million dollar, is working on the world's first oral insulin for diabetes patients.
She became India's richest self-made businesswoman in 2004 when her biotech company went public. With a turnover of $167 million last year, Biocon became India's largest biotech firm.
Kochar runs the $1.3 billion retail banking business of ICICI Bank, India's largest private sector bank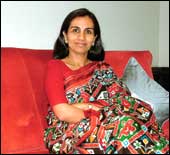 "Three out of five executive board members are women. Kochar is the brightest star among them, having increased ICICI's customer base from two million to 14 million in four years, replacing Citibank as the market leader in credit cards," Fortune magazine said.
"We thought big from the beginning," Kochar said.
Chhabria took over the reins of the $2 billion empire when her husband died three years ago. She has shifted the company's focus to its profitable electronics business and this year sold off a 55 per cent stake in Shaw Wallace, an Indian alcoholic beverages company.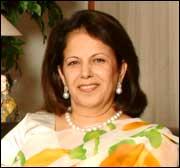 Sales at Jumbo Electronics, which has an exclusive deal to distribute Sony products in United Arab Emirates, have increased 25 per cent since Chhabria took over.
Another prominent woman of Indian origin, Indra Nooyi, president and chief financial officer, PepsiCo has occupied the 11th place in the list of America's powerful 50 business women.
Mazumdar-Shaw has a vision and a dream. She wants "to produce the first blockbuster drug to come from India." That could well be the oral insulin pill, on which work is in full swing.
With about two-thirds of its revenue coming from exports, Biocon is facing tough competition, especially from anti-cholesterol statins made in China and this was the reason for 20 per cent fall in net profits in the first half of the current financial year.
An outgoing woman with a sense of style and a fondness for pearl necklaces, Mazumdar-Shaw mixes a powerful personality with what she describes as a "networking management" style.
She is currently leading the development of two advanced biotech pharmaceutical products -- the world's first oral insulin for diabetes patients and a low-cost vaccine to curb the spread of cancers.