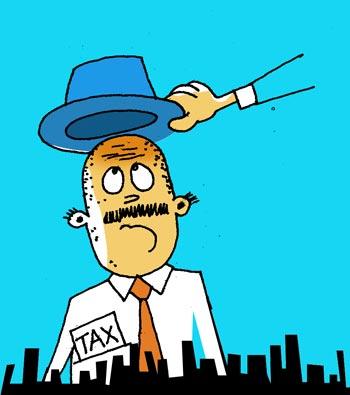 Parekh says drafting new I-T law is hindered by the lack of experience.
Illustration: Uttam Ghosh/Rediff.com.
Lack of clarity in the income tax and corporation tax laws in the country was a persistent concern, said Deepak S Parekh, chairman, Housing Development Financial Corporation, on Monday.
In a chat with journalist Shekhar Gupta at the KS Narayanan Oration 2017, Parekh said drafting a new I-T law was hindered by the lack of experience. "It is a major challenge," he said.
Parekh also said demonetisation -- one of the targets of which was black money -- had a laudable objective. "Whether or not it succeeded is anyone's guess," he said.
On November 8, Prime Minister Narendra Modi announced the withdrawal of the old series Rs 500 and Rs 1,000 currency notes, along with limitations on withdrawal from banks. Later, new Rs 500 and Rs 2,000 notes were introduced and withdrawal limits gradually withdrawn.
"We should see that impact of it," said Parekh, adding that the situation had improved since the days immediately after demonetisation was initiated.
"January was better than December. In two to three months, things should be back to normal," he added.
Parekh also spoke on economic growth, which according to some economists had been hit by demonetisation.
"The four key engines for growth are government expenditure, private consumption, private spending and exports. Of these two -- exports and private spending -- are not working," he said.
Till November, private consumption, boosted by a decent monsoon and Seventh Pay Commission award, was going strong. But now, because of post-demonetisation lack of demand, factories were operating a less than full capacity.
But there were some hopeful signs too. "Macro numbers, including fiscal deficit, current account, and foreign debt, were looking good. Interest rate is coming down," said the HDFC chairman.
Parekh said falling interest rates could also lead to an increase in public investment in equity through mutual funds.
In the past two months around Rs 10,000 crore came into the mutual fund sector despite foreign money inflow slowing down as a result to investors looking at US and rupee being not stable.
Parekh also praised the disclosure and black money declaration schemes of the government.
IDBI issue
Public sector banks should be given a free hand and supported in their efforts for taking on non-performing assets and asset restructuring, said Parekh, while addressing the IDBI case.
The Central Bureau of Investigation recently arrested former IDBI chairman Yogesh Aggarwal for allegedly colluding with businessman Vijay Mallya and granted his company a loan of nearly Rs 1,000 crore.
He said in the private sector, banks went for a one-time settlement and were able to settle things quickly. "The bankers are supported by their boards and even if there is a mistake, the onus is not on one person. But in PSUs, it's a problem," said Parekh.
He also said, unlike in the US, corporate leaders in India did not usually criticise the government.