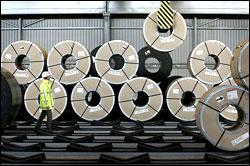 Koushik Chatterjee, the group chief financial officer of Tata Steel, is likely to take over as the next managing director of the company when the current incumbent, H M Nerurkar, retires in October.

In the top management rejig at the steel giant, Chatterjee, 44, will oversee the global operations of Tata Steel in association with two senior presidents, Anand Sen and T V Narendran, who will look after Kalinganagar and Jamshedpur operations, respectively.

Tata Steel's European operations, now led by Karl-Ulrich Köhler, will continue as usual.

"The Tata Steel board will decide the MD of the organisation at the appropriate juncture," said a spokesperson.

According to insiders, Chatterjee shares a good rapport in the group, as well as with bankers, thanks to the fact that he was instrumental in raising finances for Tata Steel's $12.1-billion Corus acquisition.

Later, as Europe slipped into a slowdown, Chatterjee restructured the entire loan by raising low cost loans and help in selling assets such as Riversdale Mining in June 2011 for $1.12 billion.

Chatterjee will report to Tata Group chairman Cyrus Mistry, 44, who is building his team-A to take the group to the next level.

An email questionnaire to the Tata Group did not elicit
any response till the time of going to the press.
According to analysts, one of the biggest challenges before Mistry and Chatterjee will be to restructure Corus' European operations.
While the company is facing low demand in Europe, it operates high cost plants in the UK and the Netherlands.
The loans taken to acquire Corus will be yet another key challenge for the next managing director of the company.
In fact, in February, global brokerage house CLSA said that Tata Steel will have to sell either full or part of Corus to retire its debt and improve earnings. CLSA said that according to its analysis, Tata Steel's FY15 earnings could see a 30-150 per cent jump, depending on which Corus assets are sold.
It also said that equity value could rise by $1.5-3.1 billion.
The report added the aim is to de-leverage the balance sheet and rid the portfolio of assets with questionable outlook including Corus.
"We see this change as a positive and, if successful, can achieve a big reduction in risk profile with large earnings and value accretion," it noted.
The Tatas had rejected the CLSA report, saying there are no plans to sell any Corus assets.
However, Tata Steel's shareholders are clearly not a happy lot as the firm's shares have lost 31 per cent in value since January, compared to 4 per cent fall in the BSE Sensex.