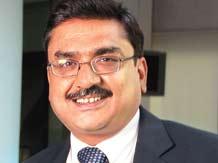 Anant Gupta, president and chief executive officer, HCL Technologies, tells Business Standard while the company is strong on the non-discretionary front, the discretionary side continues to be challenging.

He adds the financial services segment would be a major area for the company. Edited excerpts:

It has been four months since you took on a new role. How challenging was it to fill Vineet Nayar's shoes?

For HCL, the challenge wasn't internal, but more to do with the market. Not much has changed internally.

A lot of our old structure and matrix operation has been there for a while.

I see my role as that of an enabler, rather than a doer. The tough markets are a challenge.

While we have very strong story board in the non-discretionary side of the business, the discretionary side continues to be challenging. So, first is the market environment.

Second, as we grow, we have to evolve our operating models, be it the employee-first model or the target-operating model.

For me, it's business as usual.

Maybe I get a bit more paranoid about what does not work, about the value propositions we have and the next big-ticket item.

Also, are we spending the right amount of time in momentum play -- the short-term and the mid-term play -- and the white space we are going after… trying to balance those.

HCL didn't take in students to whom it had issued letters of intent and this was followed by protests. Did this surprise you? Could the issue have been handled better?

When you look at history, you can always do things better than how they had been done.

Through the entire 2012, we saw some very sharp changes in IT spend, even if you go by Gartner projections.

We have seen significant shift in the service mix, despite HCL having done well.

The fact is industry saw a slowdown in the discretionary side, even when the non-discretionary side has been doing well. It has taken us a while to educate the market about options, the changing IT landscape and the skill fungibility required in the market.

These are not HCL-specific, but broader industry challenges that would only increase if different stakeholders do not create a different operating model.

This includes universities, the government, enterprises like us and students who have to evolve to the dynamic market situation.

What is the key learning for HCL from this incident? Is this why you're not visiting campuses for recruitment?

We need better planning, faster ways to train people, make them cross-border in skill and (improve) fungibility, not restrict them to a specific technology domain, but multiple tech domains.

These are the basic things coming in due to a shift in the service mix.

That we're not visiting campuses is, in my view, a change in the operating environment.

Going to a campus is not the only means of reaching out to a talent pool.

You cannot have a visit once a year and take a wholesome view. Hiring would be more periodic; maybe we would reach out once a quarter.

First, the talent pool is available.

Second, shorter, more proactive hiring is easier. It can be better executed with the right training modules.

We will continue with our just-in-time-model.

In the last few quarters, there was a drive to improve margins. But for this quarter, it remains flat. How sustainable is this?

This is not a one-quarter phenomenon.

We have had six quarters of margin improvement. There is an element of forex play and an improvement in efficiency.

If you take out the forex aberration this quarter, we are better off.

This is a continuous process. We believe we are in a sweet spot, with a good market ahead of us.

We see a lot of re-bids coming in and a good opportunity for HCL to get inside the door and, over a period, expand that with value-added services.

We will continue to drive investments in the re-bid market.

Which verticals would drive growth? You seem to be bullish on healthcare.

Healthcare is still a largely under-penetrated market. Here, there is huge potential in the mid- to long-term perspective.

Financial services is the another big play for us. In the next wave of Gen 2.0 outsourcing, customers would look at new models.

We are focused on the non-linear approach, with the ability to adopt levers beyond labour arbitrage, on-shore and off-shore. For us, perhaps telecom is the only question mark.

We will continue to be present in the government sector selectively.
Image: Anant Gupta | Photograph, courtesy: Business Standard