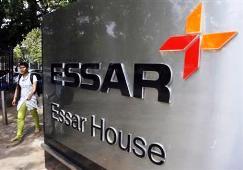 Essar's only telecom venture, Yu Telecom in Kenya, has raised its market share by eroding that of the market leader, Safaricom.

The operator was acquired four years earlier by Essar, when the latter had more telecom ventures, such as the 33 per cent stake in Vodafone Essar, and also owned telecom towers.

It has since exited both these ventures.

The group's investment in Yu, which have been around 40 billion Kenyan shillings (Rs 2,660 crore or Rs 26.6 billion), is expected to break even next year.

Yu garnered around 11 per cent market share to become the third largest operator in the country since it was acquired.

It also beat its competitor and the largest operator in being the fastest to add subscribers.

In the last two years, it added almost a million subscribers annually.

"We achieved the coveted number of three million subscribers as of September 2012.

"We achieved this in four years of existence.

"It had taken double the amount of time for the main player in the market to achieve this," said R Madhur Taneja, chief executive of Yu.

It is eyeing more growth, with only half the population possessing a mobile phone.

The market is growing at the rate of 2.5 million subscribers yearly; tele-density is 52 per cent and SIM penetration is 67 per
cent.
"There exists a huge headroom for growth due to several factors like low tele-density, multi-SIMs and an increase in favourable demographics, as the average age of the country is 18 years," said Taneja.
It also had an effect in lowering of call rates; in addition, the Kenyan regulator took a focused approach to lower the high mobile termination rates.
These call rates, Madhur feels, have bottomed out;. the latest MTR reduction did not lead to any reduction in call rates.
Value-added services form 18 per cent of the Kenyan venture's revenue.
"The Kenyan market is highly receptive to music and chat," says Taneja. In India, the average revenue contribution of VAS is 10 per cent.
Yu had taken advantage of VAS growth, and took advantage of being the first mover in many areas. It was the first to launch Voice Chat, which provides social networking on the phone, "We have also been the first in Kenya to launch a unique music service, yuMobile radio, a product that allows a subscriber to enjoy nonstop hits on their mobile phone.
"It acts like a jukebox on one's phone," he said.
The new opportunities beyond voice telephony are in mobile money and data.
"In addition, VAS, as well as corporate and enterprise solutions, are expected to grow, with corporates eyeing Kenya (and the rest of Africa) as growth territories," said Taneja.