Prime Minister Narendra Modi said India and the United Kingdom are economically made for each other and this relationship has to be driven by private sector CEOs.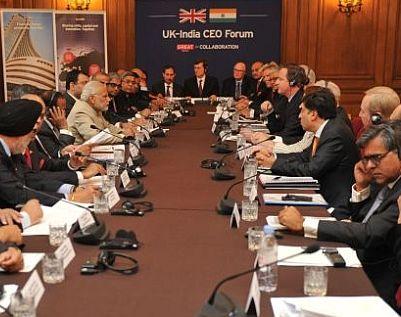 Top CEOs from India and the United Kingdom on Friday pitched for a more transparent and consistent decision-making regime as also a uniform treatment of corporates across the world, as Prime Minister Narendra Modi vowed to "ceaselessly" work towards Indian economy's integration with the world.
A reconstituted India-UK CEOs Forum, during its first meeting today, identified six overarching themes as important areas of collaboration to take forward -- smart cities and the digital economy, healthcare sector, education and skills, engineering, defence and security, and financial and professional services.
The meeting took place in presence of Modi as well as his British counterpart David Cameron.
"We are confidently, consistently and ceaselessly working to integrate our economy with the world," Modi told the gathering at 11 Downing Street, next door to Cameron's office in London.
Cameron encouraged the company chairs and chief executives to identify the "best ways to build new trade partnerships and investment opportunities and use the strength of existing commercial relationships to identify and build more partnerships between innovative Indian and UK companies".
The forum was co-chaired by Tata Group chairman Cyrus Mistry on the Indian side and Standard Life chairman Sir Gerry Grimstone on the UK side.
"The common ask of the industry in both countries is a business environment characterised by simplicity in structures and processes, clarity and transparency in decision-making and uniformity and consistency in the treatment of corporates and people across borders," Mistry said.
"The new UK-India CEO Forum provides a powerful foundation with which to implement initiatives that will bring our two countries closer together, based on mutual respect and shared values," said Mistry, who was joined by the likes of Bharti Enterprises chairman Sunil Bharti Mittal, Tata Consultancy Services CEO & MD N Chandrasekaran and Bharat Forge chairman Baba Kalyani.
"Today's meeting was a great opportunity to celebrate the success of the UK-India commercial relationship. India is the third largest investor in the UK, and the UK is the largest G20 investor in India," Gerry Grimstone said.
"This forum will forge deeper collaboration in areas where there is scope to take relationship to the next levels," said Grimstone, whose UK team included leading British company representatives like Vodafone chief executive Vitorio Calao, BAE CEO Ian King and Rolls-Royce CEO Warren East.
The UK is the largest G20 investor in India, with 535 UK businesses employing 691,000 people across the country in sectors as diverse as retail, infrastructure, construction, information and communications technology, creative industries and healthcare.
In the UK, around 800 Indian businesses employ 110,000 people.
"The two Prime Ministers welcomed the first meeting of the reconstituted India-UK CEOs Forum. This Forum will be tasked with advising the Prime Ministers about the trade and investment opportunities and challenges," a joint statement issued by Modi and Cameron said.
The forum is backed by the UK India Business Council (UKIBC) and the Confederation of Indian Industry (CII).
Modi had sought to pre-empt some of the issues around taxation, foreign direct investment (FDI) and intellectual property rights (IPR) that were expected to feature in the closed-door talks today during his speech at the Guildhall in the City of London on Thursday evening.
"We have taken very decisive steps to remove a number of long pending concerns. To give you some examples, we have expedited regulatory clearances including security and environmental clearance...," Modi had said.
"We have clearly articulated that we will not resort to retrospective taxation and demonstrated this position in a number of ways. This includes not going for imposition of Minimum Alternate Tax on FPIs...We have rationalised the capital gains tax regime for Real Estate Investment Trusts. We have taken several initiatives for transparency and online processing in IP administration," the Prime Minister added.
"A comprehensive National IPR policy is being finalised," he told the gathering in the heart of London's financial district.
On the second day of Modi's three-day visit, deals worth nearly 9.2 billion pounds have already been announced that include 28 business-to-business agreements.
"It was a full day of engagement which included the conclusion of a civil nuclear agreement. Details of this will become clear over time but it involves a full chain agreement which will cover research and exchange of best practices...it opens up a whole world of opportunities for both countries," an MEA spokesperson said.
Vodafone's announcement of a 1.3-billion pounds investment package for India has been highlighted as a "big positive story" of the visit as the company has been at the centre of taxation rows in the past.
Other key investment announcements include King's College Hospital NHS Foundation Trust and Indo UK Healthcare Pvt Ltd's agreement to open King's College Hospital in Chandigarh, which will lead to the creation of jobs for 2,500 nurses and 500 doctors.
Genus ABS will be investing 1 million pounds in India, providing the latest dairy genetics and constructing a state-of-the-art facility near Pune in Maharashtra.
The largest Solar PV generator in the UK and Europe, Lightsource have announced 2-billion pounds investment in India.
E-commerce cloud platform provider, cloudBuy, is signing a contract with the Confederation of Indian Industry (CII) for an online business to business marketplace.
Over the next five years, the platform is projected to facilitate transactions worth 3.5 billion pounds and increase trade further between traditional business partners India and the UK, with an estimated boost to the UK economy of 70 million pounds.
In a deal worth 20 million pounds, Holland & Barrett International are announcing that they have partnered with Apollo Hospitals, and are to open 1,000 Holland & Barrett outlets in India over the next five years, creating an expected 1,500 jobs in India.
Modi is expected to conclude his visit to the UK with a tour of one of the biggest success stories of India-UK collaboration - Tata Motors-owned Jaguar Land Rover's plant in Solihull, in the West Midlands region on Saturday.