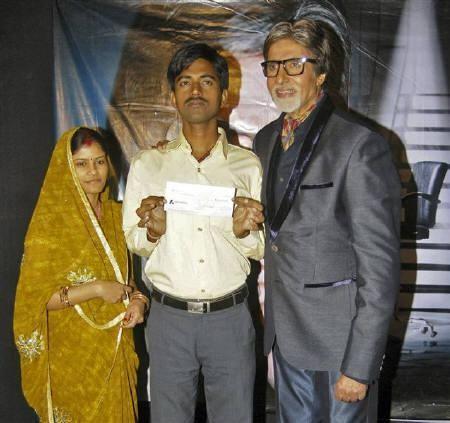 Bihar boy Sushil Kumar, who hit the Rs 5 crore (Rs 50 million) Kaun Banega Crorepati jackpot, was on Monday named by the Centre as the brand ambassador for its flagship rural job guarantee scheme MNREGA.
Announcing the decision, Rural Development Minister Jairam Ramesh said Sushil Kumar is a "good example" of young men who worked in the MNREGA programme and the government will make use of him in Bihar, Jharkhand, Uttar Pradesh and Madhya Pradesh to highlight the impact of NREGA on the rural masses.
Sushil Kumar, a data operator with MNREGA, is a "better person" to speak about it, the Minister said while felicitating him.
Calling him "a real crorepati", Ramesh said young men like Sushil Kumar should be projected as they were the people who have come up through the MNREGA system.
"There was a young boy in Khammam district in Andhra Pradesh. Three years ago he cracked the IIT entrance exam. He is also son of MNREGA labourers," he told reporters.
Asked whether he would help Kumar who had said that his ultimate aim is to clear the Civil Services examination, the Minister said, "I wish him all the best. He is in touch with my Private Secretary. We will help him, if he wants to join the IAS. This is what mobility is all about."
Ramesh had written to Sushil Kumar congratulating him on his win. Sushil Kumar, who hails from Motihari in East Champaran -- a naxal-affected district of Bihar -- said he was fortunate to have been associated with MNREGA.
"Whatever responsibility I am given, I will do it with utmost sincerity," he said. He said MNREGA can help stop youths moving towards Naxalism to a large extent.