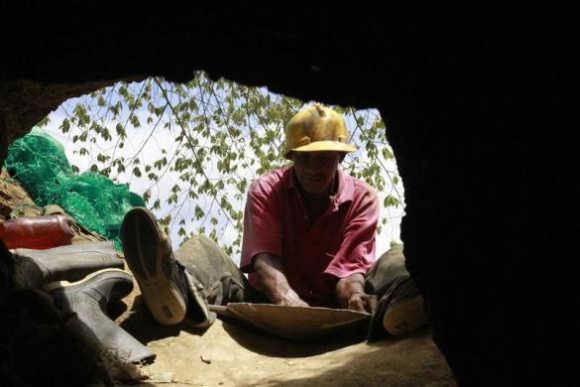 The Supreme Court's landmark decision to allow reopening of Category-A and Category-B mines in Karnataka has come as a big relief to the mining sector and the ore-starved steel industries in the state.

It is expected to put an end to the uncertainty surrounding the sector in Karnataka and result in a steady supply of raw material.

Reopening of the Category-B mines will not result in supply of ore immediately. The mining leases of many large companies have expired and they cannot start till they secure regulatory approvals afresh. Examples are Sesa Goa and Mineral Entepries (MEL), which have large lease holdings in Category-B.

The former has a capacity of 2.29 million tonnes approved by the Supreme Court's Central Empowered Committee (CEC); MEL has approval to produce 420,000 tonnes in a mine in Category-B.

"We just need forest clearance for Karnataka mines and have applied for it. We expect to get it in a week. We should be able to mine 300,000 to 400,000 tonnes in a month," P K Mukherjee, managing director, Sesa Goa, said.

With the SC ordering cancellation of 49 mining leases in Category-C, 117 mining companies, from A and B, are left. Of these, many leases have expired and the renewal process takes a year.

The CEC has approved reclamation and rehabilitation (R&R) plans for 57 mining leases. Of these, 25 are from Category-B, including those of Sesa Goa, MSPL, MML, MEL and SKME.

The approved mines in Category-B can produce 7.3 mt and the 20 mines in Category-A, put together, 2.5 mt. Of these, eight companies have restarted production, with a combined capacity of 2.5 mt.

"Many smaller companes might not start as it would not be feasible for those to operate with the smaller capacities fixed by the CEC. Considering this, the industry can mine 15 mt during 2013-14," said R K Sharma, secretary general, Federation of Indian Mineral Industries (Fimi).

The steel industry can look to 15-17 mt of ore this year, assuming the central government's NMDC produces eight mt. Though the latter had been allowed by the SC to produce a mt a month, it has been able to achieve 700,000
tonnes.
For 2014-15, production is likely to go up to 25 mt and reach 30 mt in 2015-16, provided most A and B mines secure resume mining, said Basant Poddar, managing director, MEL.
JSW Steel, Kalyani Steel and BMM Ispat are among those which would have to wait some more to normalise operations. These produce 50-80 per cent of their capacities.
"We are happy with the judgement, as it will lead to normalisation of operations. We hope to get 20-21 mt by year-end. For JSW Steel, we will achieve 90 per cent of the capacity utilisation this year," said Vinod Nowal, director and chief executive.
Once the mining industry touches 30 mt a year, the company will also reach 100 per cent capacity at its Vijayanagar Steel Plant in Bellary district, he added.
"The SC judgement is a step in the right direction and is a good development for the country. It is a big relief for us and will help improve socio-economic conditions in Bellary district," said Rahul N Baldota, executive director, MSPL.
R K Bansal, chief executive of the Sustainable Mining Initiative of Fimi, said, "Regulatory processes are already slow in our country and with additional factors like the R&R Plan coming into the picture, it would take more time for mining firms to implement those plans and secure all statutory clearances."
ALL ACCEPTED
SC order followed recommendations of central empowered committee
CEC recommended a ceiling on production of iron ore at 25 million metric tonnes in Bellary and five million metric tonnes in Chitradurga and Tumkur districts
Halt on issue of fresh mining leases, including those for which notifications have been issued, without obtaining permission from the apex court
Ore to be sold through e-auction
Levy of penalty of ~5 crore for illegal mining by way of digging pits outside the lease area, and ~1 crore for illegal mining of overburdened dumps outside sanctioned area
Deletion of reference to Western Ghats in the report by ICFRE
Set up special purpose vehicle under the chairmanship of chief secretary, government of Karnataka, to initiate ameliorative and mitigative measures in Bellary, Chitradurga and Tumkur