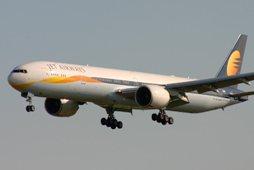 Shares of Jet Airways today soared by nearly 9 per cent in early morning trade as the Abu-Dhabi based Etihad paid $70 million to the Indian carrier for three Heathrow slots.

Extending its previous day's rally, shares of the company opened on a strong note and further gained 8.78 per cent to Rs 581.85 on the BSE.

At NSE also, the scrip zoomed up by 8.83 per cent to Rs 581.95.

In what is seen as a step towards closing its proposed investment plans in Jet Airways, Etihad Airways yesterday said it has paid $70 million to buy three slots of the Naresh Goyal-promoted airline at Heathrow airport in London.

Regarding the ongoing stake sale talks between the two, Etihad said they continue to progress with discussions about further investment in Jet.

The deal strengthens the existing commercial relationship between the two airlines, which came into effect in July 2008,
making provision for codesharing, Etihad said.
On the 24 per cent proposed stake sale to Etihad, Jet sources had said, it has reportedly agreed to cede more management control, including more board positions to Etihad.
However, this could not be officially verified with either Jet or Etihad officials.
If materialised, this will be second FDI in the domestic aviation sector after Malaysian carrier AirAsia announced a 49:51 per cent partnership with Tatas and Telestra Tradepalce of Arun Bhatia in the middle of this month to launch a low-cost airline.