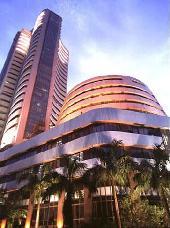 Markets declined lower in volatile trades ending in the red, after the Budget raised the surcharge on corporate tax to 10% from 5% for domestic companies whose taxable income exceeds Rs 10 crore per year.

Several other changes were proposed in the Budget this afternoon. Investors were also cautious as they rolled over their positions from the near term February series to march series in the futures and options segment.

The Sensex slipped below the 19,000 mark and ended at 18,861 - down 291 points. Nifty ended down 104 points at 5,693.

Finance Minister P Chidambaram presented one of the most highly anticipated Indian Budgets of recent years on Thursday, as the government looks to contain rising fiscal deficit and restore confidence in Asia's third-largest economy.

He said that current account deficit continues to be high due to excessive dependence on oil, coal and gold imports and slowdown in exports and that India does not have choice between welcoming and spurning foreign investment. He termed FDI as 'imperative'.

Faced with huge fiscal deficit, the government has no choice but to rationalise expenditure, for which "battle against inflation must be fought at all fronts".

The Securities Transaction Tax (STT)
will be reduced on equity future, mutual fund and the Investor Protection Fund set up by depositories will be exempt from tax.
Chidambaram said fiscal deficit will be 5.2 per cent in current year and 4.8 per cent in the next fiscal.
Elsewhere in Asia, however, markets remained strong with investors keying into comments from the head of the U.S. Federal Reserve emphasizing an ongoing commitment to monetary stimulus.
Hang Sengm Shanghai Composite and Nikkei soared 2-3% each.
The yen was defensive, with Japanese Prime Minister Shinzo Abe nominating Asian Development Bank President Haruhiko Kuroda as Bank of Japan governor, and academic Kikuo Iwata as one of the two deputy governors.
Both are seen by markets to support Abe's call for unconventional reflationary stimulus measures, and that view has underpinned yen selling.