Jayalalithaa credited Prime Minister Narendra Modi with spearheading investor-friendly initiatives, saying it will "enthuse" businesses planning to invest in states.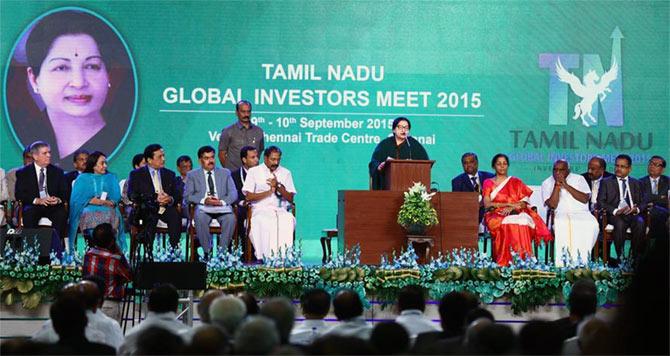 Investment of over Rs 1 lakh crore was committed for Tamil Nadu at a maiden Global Investors Meet that began in Chennai on Wednesday, Chief Minister Jayalalithaa said as she made a strong pitch for pushing the infrastructure sector.
"The Global Investors Meet (GIM) had targeted investment commitments of Rs 1 lakh crore. I am very confident that further commitments would be made over these two days," she said while lauding Prime Minister Narendra Modi for creating "a more investor-friendly climate".
Inaugurating the two-day meet which is being attended by 5,000 delegates, including 1,000 from abroad, Jayalalithaa showcased the state as a top investment destination and assured businesses that their foray into Tamil Nadu was "sound investment".
Batting for more investment in her state, Jayalalithaa referred to her various pro-industry initiatives and said that "a total investment in infrastructure of $250 billion is planned".
"These are not idle promises or mere ideas. Implementation of 84 of the 217 projects and programmes identified under the 'Vision Tamil Nadu-2023' has already commenced," she said.
"Let me assure all the investors present here today that an investment in Tamil Nadu is a very sound investment. It is an investment in the hard-working, enterprising and reliable people of Tamil Nadu," Jayalalithaa said in her address.
Talking about her various pro-industry initiatives, including the new industrial policy unveiled in 1992 during her first tenure as chief minister, Jayalalithaa said global automakers like Ford (US) and Hyundai (Korea) had set up manufacturing units here during that period.
On the power scenario, Jayalalithaa said Tamil Nadu has overcome the acute power crisis that was facing the state when she had assumed office in 2011 due largely to a series of projects and arrangements.
She said that her government's Solar Power Policy-2012 had resulted in Tamil Nadu now having the largest domestic roof-top solar energy generation capacity in the country.
"A strong pipeline of conventional and renewable power projects has been built up and long-term power supply agreements have been entered into to ensure that the state is not power scarce at all in the foreseeable future," she said, adding that Tamil Nadu was, in fact, on the 'verge' of becoming "power surplus".
She said that the state was leading in the areas of textiles, leather, IT, healthcare, automobiles and auto components, among others.
"The share of our services sector in the economy is one of the highest in India. Tamil Nadu attracts the third-highest Foreign Direct Investment in the country," she said.
Citing data, Jayalalithaa said the state was ahead on various industrial and investment parameters, including employment generation and attracting business.
IT major HCL Ltd and ITC pledged investments of $1 billion and Rs 2,500 crore, respectively, at the GIM.
"We will be allocating a billion dollar in investments in the next five years in addition to the investments we have already made here in Tamil Nadu," said HCL Chairman Shiv Nadar.
She also lauded Prime Minister Narendra Modi's initiatives on the economic front, saying the "investor-friendly initiatives will enthuse" the businesses planning to invest in Tamil Nadu.
"The Honourable Prime Minister has spearheaded many recent initiatives to create a more investor-friendly climate and encourage more Foreign Direct Investment," she said.
Union Commerce Minister Niramala Sitharaman, who delivered the special address at the event, hailed Tamil Nadu as an investor-friendly state with huge opportunities that are waiting to be tapped.
Jayalalithaa on her part urged Sitharaman to expedite clearances at the central level for the investments proposed in the GIM.
The inauguration was attended by several corporate heavyweights, including FICCI President Jyotsna Suri, Shiv Nadar of HCL, Anand Mahindra of Mahindra and Mahindra and Venu Srinivasan of Sundaram Clayton, besides Union Minister of State, Pon Radhakrishnan.
ITC Chairman YC Deveshwar said his company was keen on making investments of about Rs 2,500 crore in the state as part of tapping the food processing and hotel businesses.
Ambassadors, high commissioners and delegations from countries like Australia, Canada, Japan, Korea, France, Italy, the UK, Singapore and Russia, too, are taking part in the two-day event. Delegates at the much-awaited GIM, which was rescheduled twice, were treated to a glitzy cultural extravaganza, including a programme by eminent dancer Urmila Sathyanarayana and her troupe.
The main logo for the global investors' meet, 'Pegasus', was unveiled on the occasion. Pegasus is an ancient Greek winged stallion usually depicted as being pure white in colour.
The roads leading to Chennai Trade Centre -- the GIM venue -- were decorated with festoons and AIADMK flags while there were performers en route to the meet venue playing percussion instruments.
There was a tight security cover in and around the venue.