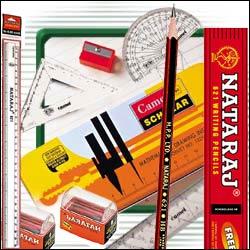 India's favourite stationary and art brand is set for a strategic makeover.

The Dandekar family, the promoter of Camlin Ltd, has decided to offload a lion's share of its stake to Japan's Kokuyo Co Ltd, according to two independent sources aware of the development.

Kokuyo is a 100-year-old stationary, furniture and design group with a $3-billion annual turnover.

The 80-year-old Camlin is known for pencils, pastels, inks and geometry boxes.

It has 2,000 products, from pencils and paint brushes to pastels, pens and permanent markers.

Kokuyo, listed on Japan's exchanges, will get a 51 per cent stake in Camlin through a series of staggered transactions.

Dilip Dandekar, Camlin chairman & managing director, denied any plan to sell the company.

"The information is not true. I would like to confirm that there is no such proposal," he said.

Mails to Kokuyo in Japan did not generate a response.

However, sources said the talks were in final stages and an announcement was expected in mid-May.

To begin with, the Dandekar family will sell a part of its 38 per cent stake and retain 12 per cent.

Initially, Kokuyo will hold around 25 per cent, but will have to make for an open offer to buy another 20 per cent.

Depending on the offer's success, a preferential allotment will be made to enable Kokuyo to take its stake to 51 per cent.

The deal, sources say, is being done at Rs 110-115 per share.

This means a valuation of two times Camlin's estimated 2010-11 sales of Rs 370 crore (Rs 3.7 billion) or 25 times its estimated 2010-11 earnings before interest, depreciation, taxation and amortisation.

Camlin shares closed at Rs 69.25 on the Bombay Stock Exchange on Friday.

The stock has been on fire of late on stake-sale buzz and risen 30 per cent in a month.

While three sections of the Dandekar family will exit, Dilip Dandekar and his nephew, Shriram S Dandekar, the executive director, will continue in non-executive roles, with the former becoming the non-executive chairman.

Sources said the deal's structuring was interesting.

As long as the Dandekar family remains a shareholder, it will have a put option on its stake.

However, Kokuyo will not enjoy a call option. In others words, Kokuyo will not have the right to buy additional shares from the family.

Also, Kokuyo will retain Camlin and Camel brands, especially in segments where Camlin already has a presence.

But Kokuyo may introduce own products such as Campus notebooks, Airofit scissors, Dotliner adhesive dispensers and its furniture line, as these will either be new products or brand diversifications.

There are many high-growth areas such as schoolbags and notebooks where Camlin is not present and Kokuyo's know-how is expected to help.

Together, Kokuyo
and Camlin plan to expand across Asia with the help of manufacturing hubs in India and China. Some Camlin's products, already popular in Sri Lanka, will also get an export push.
"It should be a win-win as both. Imagine going to a school or an office and bagging in one go the contract for interiors, furniture, furnishings, communication systems and stationary. There will also be scope for co-branding," said a person involved in the negotiations, on condition of anonymity.
"Also, many new and diversified products can be pumped into Camlin's distributor channel," he said.
Camlin's products are available in about 150,000 outlets.
Sources said acceptance of Camlin's conditions by Kokuyo made it easy to finalise the transaction.
The fact that furniture was Kokuyo's main focus, not stationary and art, also helped, they said.
Retaining the brand was one reason Camlin's talks with Zebra, another Japanese stationary maker, failed, even though the two have had a marketing alliance.
The Rs 10,000-crore (Rs 100-billion) stationary market has grown very fast in the last few years with the entry of writing companies Cello, Reynolds, Linc and Luxor, besides ITC, which has introduced Classmate notebooks and allied products.
European and American stationary and art brands such as Faber Castle, 3M and Staples are also tying to consolidate their position in India.
Industry experts say the notebook segment alone is worth Rs 4,000 crore (Rs 40 billion), followed by writing (Rs 3,000 crore or Rs 30 billion).
The rest is distributed among art & hobby, scholastic products, etc.
This is the segment where Camlin operates.
> Camlin's traditional rivals have consolidated in the last few years.
For example, Hindustan Pencils now controls two-thirds of the pencil market with Apsara and Natraj brands.
Cello and Reynolds ventured into pencils and notebooks last year. ITC's Classmate has moved from its core notebook segment into geometry boxes, pens and pencils.
ITC says more extensions are likely.
Accepting Camlin's strong brand equity, analysts and brand consultants say a strategic partner will take Camlin to the next level of growth.
"All these players have deep pockets and are capable of waging a long battle for leadership," says R Sridhar, chief executive of Bangalore-based brand consultancy Brand Comm.
Shirish Pardesi, a senior analyst at Mumbai-based brokerage Anand Rathi, said, "You either have scale or support your brand strongly. I don't think Camlin has been particularly strong on both counts."