India saw 4.2 million foreign tourists till May mainly thanks to visitors from Bangladesh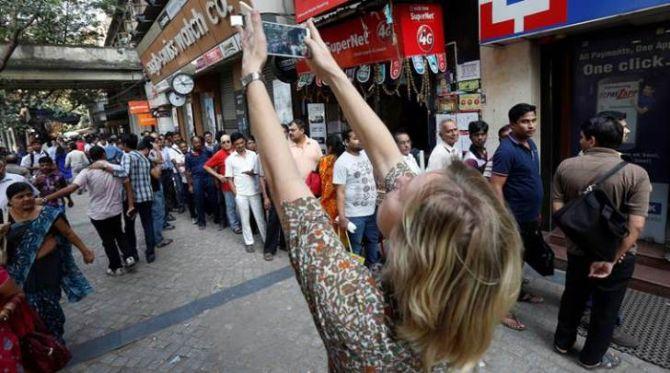 Foreign tourist arrivals are growing at the highest pace in more than a decade, primarily due to a sharp rise in visitors from Bangladesh.
Arrivals from the neighbouring nation have surged 58 per cent in the first five months of this calendar year, ensuring 16 per cent growth in foreign visitors.
India saw 4.2 million foreign tourists till May, against 3.6 million in the same period last year, growth of 16.3 per cent against an increase of 8.7 per cent for the period under review in 2016, government data showed.
About 861,000, or one in five, visitors to India came from Bangladesh. Last year, our country had 540,000 visitors from there in January-May.
Approximately 590,000 more visitors landed in the country in the first five months over the past year, while arrivals from Bangladesh rose by 321,000.
The rise of Bangladesh in the Indian travel market has been rapid. From a mere 0.5 million visitors in 2012, the number grew almost threefold to 1.37 million in 2016 and the number is poised to hit a new high this year.
Most Bangladeshis visit for better medical facilities. Trade and commerce is also a contributor.
Government data showed of the 134,344 medical visas issued by India in 2015, half went to Bangladesh citizens.
The number of medical visas issued to Bangladeshis increased to almost 97,000 during the first half of 2016.
Hospitals, especially those in the east, have registered a significant uptick in patients from across the border.
Kolkata-based AMRI Hospitals, which has three facilities in the city, has seen growth of 40 per cent in patients from Bangladesh.
"We have seen a sharp surge in numbers. We get 1,000-1,500 patients every month from Bangladesh. They come for all kinds of treatments. We get quite a few cases of infertility," said Rupak Barua, group chief executive officer at AMRI, promoted by Emami.
A large number from Bangladesh come by a bus service that connects Dhaka to Kolkata.
A new bus service on the same route and a rail link between Kolkata and the western city of Khulna in Bangladesh were inaugurated earlier this year.
Such moves have helped people from Bangladesh reach India quickly.
Photograph: Rupak De Chowdhuri/Reuters