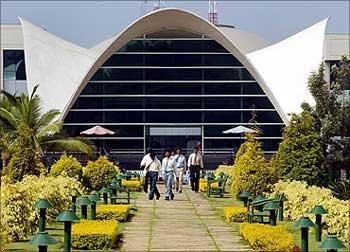 The information technology sector, India's largest private-sector employer with 3.1 million direct jobs, will witness muted hiring activity this year. According to industry body Nasscom, growth in IT hiring in 2014-15 will be a moderate six per cent.
This year, the IT sector will see higher attrition rate and wage increase to the tune of 8-11 per cent, Nasscom said in its Annual HR Survey 2014.
According to the report, the sector will add 170,000-180,000 employees this year. The headcount growth would be faster for small and medium enterprises (SME) and start-ups at seven-eight per cent. Last year, the hiring posted a growth of 5.6 per cent.
Speaking to reporters during the annual HR Summit 2014, Nasscom president R Chandrashekhar said that the SME and start-up sectors are seeing a higher hiring rate than that of the bigger companies.
The hiring in the sector has been going through several changes and is expected to see a growth this year. Chandrashekhar said that in terms of growth in the sector, Nasscom had predicted 12-14 per cent growth in 2013-14 and the actual growth turned out to be 13.2 per cent.
"The total turnover was $118 billion; this year, our projections are 13-15 per cent, which is a slight increase over the last year," Chandrashekhar added.
The attrition levels in the sector, although under control, is likely to rise in FY15 as demand environment improves.
With the overall economy showing positive signs, the attrition level is expected to see an increase by 100-200 basis points over the last year. SME firms would be the most-affected by this.

Attrition levels in IT and related sectors, which had come down from 19 per cent in FY12 to 14 per cent in FY14, are currently going up.

Salary hikes are also expected to be slightly higher this year - from 8-10 per cent in FY14 to an estimated 9-11 per cent in FY15, the report noted. Middle-level managers are tipped to get 11-15 per cent increase in their pay, while in entry- and senior-management levels, the rise is 5-10 per cent.

The sector's average age is 27 years and 34 per cent are women employees. Contract employees constitute about four per cent, which is expected to continue to be in the 4-5 per cent range, Nasscom noted.
While 43 per cent of the employees were from Tier-I cities, a larger number of employees are from Tier-II, Tier-III and rural places. This means, there is more migration of employees from the other places to Tier-I cities and Nasscom is looking at how to create facilities in Tier-II, Tier-III cities to avoid more migration. The sector employs over 170,000 foreign nationals, who constitute seven per cent of the total sales strength.
The fresher hiring would see a drop from 16 per cent of the total hiring in FY 2013, to 14 per cent in FY 2015, while the non-traditional recruitments from online job portals and social media were increased from 42 per cent in FY 2013 to 44 per cent FY15 and this has been driving the recruitment processes in the last two years, they said.
However, almost 50 per cent of the firms surveyed are not happy with the quality of campus recruits, and hence planning to expand their list of colleges, it added. Almost 58 per cent of companies were looking for laterals owing to the demand for the niche technology skills and domain expertise. The campus hiring is expected to be more focused, training freshers in new technologies such as social, mobility, analytics and cloud.
In terms of human resources, the study said that the increased automation has helped to improve the clarity and transparency of HR policies, leading to enhanced communication and improved perception of HR professional, it said. Start-ups also emerged focusing on building solutions and products to enhance HR processes.
The survey results were based on the response of over 100 firms which accounts for over 42-45 per cent of IT-BPM revenue.
The bench strength is also expected to come down, with hiring is not increasing dramatically as against the revenue growth. It is expected to come down by 1-2 per cent from a 15-18 or even 20 per cent bench in the company, said BVR Mohan Reddy, vice chairman, Nasscom.
"We are seeing a decreasing relationship between the turnover and the number of employees. In part, this is because of greater productivity, and in part it is because of some reduction in bench strength.Also, in products business, the relationship is differen," said Chandrashekhar.