It's one tender that could usher in an era of partnership between domestic and global IT service providers, who compete fiercely for deals in India and abroad.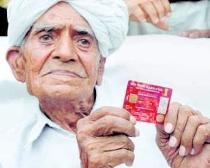 At stake is a Unique Identification Authority of India project that, according to insiders, is estimated to be in excess of    1,000 crore (   10 billion).
Indeed, with service providers expected to handle various aspects of the database of 1.2 billion people, that figure could very well be just the tip of the iceberg during the 7-10-year lifespan of the project.
The managed services provider contract tender, expected to be floated by the month-end by UIDAI, is being touted as one of the largest IT outsourcing contracts floated in India, whether in the enterprise or government space.
The MSP contract will force most Indian IT service providers, except the top four, to take a consortium-led approach.
Similarly, global firms will have to rely on Indian IT players for various aspects of the contract such as data centre operations, hosting, networking, applications and call centres.
UIDAI, the controlling authority for the implementation of nationwide unique IDs for Indian residents, has decided that primary bidders for the tender should have annual revenue of at least of    6,000 crore (   60 billion).
 In its invitation of expression of interest, UIDAI has also made it clear that primary bidders should have an average annual turnover from systems integration & managed services of    500 crore (   5 billion) over last three financial years.
That means, other than the top four Indian IT services providers -- TCS, Infosys, Wipro and HCL -- others won't be able to compete for the tender as primary bidder.
These four players will also be forced to forge partnership with other Indian or global players for various pieces of technology, for which they may not have capabilities.
"UIDAI is looking at a consortium-led approach towards MSP because we need different companies with different expertise and experience. The lead company will partner smaller ones, who are into software development or have some expertise in connectivity, and the prime partner will be the system integrator, whose main task will be to manage the services," said a source in UIDAI.
Global firms like Accenture and Capgemini, who don't have strong data centre capabilities in India, are also understood to be looking for potential Indian partners to compete for the tender as lead partner. 
The biometric solutions aim to capture the fingerprints and iris scans of the country's entire population.
"We really can't qualify to bid for the (MSP tender) as primary bidder. But we will certainly be in a consortium, because I don't think any one company will bring all the capabilities," said the CEO of a mid-cap IT services firm.
He said the company would seek a suitable consortium once the service-level specifications are clear.